Chinese Bridge contest for college students held in Ghana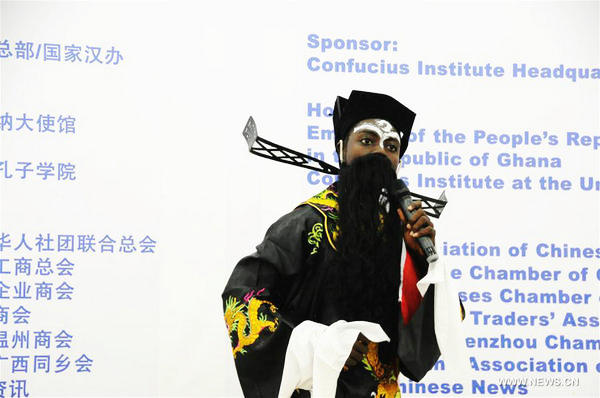 Joseph Edward Yawson, a student of the University of Ghana, performs Peking Opera in the "Chinese Bridge" language proficiency competition in Accra, capital of Ghana, on April 7, 2017. The Ghanaian preliminary round of the 16th "Chinese Bridge" language proficiency competition for college students took place on Friday at the University of Ghana in Accra. Yawson won the overall prize after three rounds of contest in writing examination, spoken Chinese, knowledge about China and Chinese cultural talent. [Photo/Xinhua]
The Ghanaian preliminary round of the 16th "Chinese Bridge" language proficiency competition for college students took place on Friday at the University of Ghana, Legon, in Accra.
The Chinese proficiency competition is held annually for non-Chinese college students in various countries to arouse their enthusiasm in learning Chinese and strengthen the world's understanding of Chinese language and culture. This year's competition, organized by the Confucius Institute, attracted 10 students selected from three universities in Ghana.
Joseph Edward Yawson, a student of the University of Ghana, Legon, won the overall prize after three rounds of contest in writing examination, spoken Chinese, knowledge about China and Chinese cultural talent.
For his prize, Yawson received a paid-trip to represent Ghana at the international finals of the competition to be held in China later this year and a six-month Confucius Institute scholarship.
The first runner-up, Benjamin Hayfron-Walker, will also visit China to observe the world contest.
Yawson was very excited after the contest and told Xinhua that he had set his eyes on the world crown.
"Over the years, there have been my seniors who have represented Ghana in that competition in China and they did very well. You talk of someone like Ignatius he was able to get a very good position. So I will set this as a target that I have to be able to bypass him," he said.
Hayfron-Walker said he would use the opportunity in China to support Yawson. The Political Counselor of the Chinese Embassy, Jiang Zhouteng, urged the students to serve as bridges to deepen China-Ghana cooperation.