Beethoven powers Vienna orchestra across China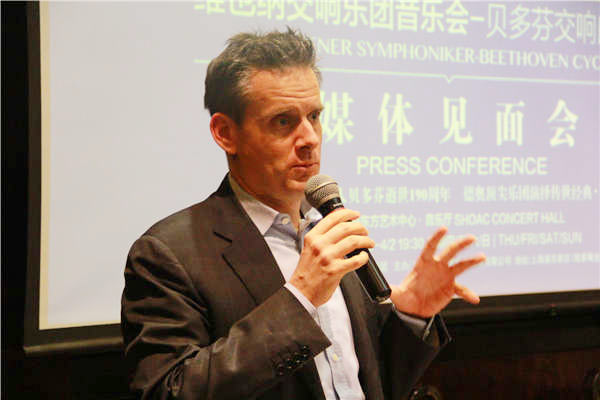 Conductor Philippe Jordan attends a Shanghai event to promote Wiener Symphoniker's tour in China. Provided To China Daily
Wiener Symphoniker (Vienna Symphony) is presenting for the first time in Shanghai the complete Beethoven symphonies, one to nine, which is an unprecedented project for the orchestra.
The four concerts at Shanghai Oriental Art Center, which began on Thursday and conclude on Sunday, mark the climax of Beethoven performances in Shanghai this year, says Luo Xueqin, vice-manager of the theater.
The Austrian orchestra has brought more than 100 musicians on this China tour, which started in Shenzhen of Guangdong province, on Monday.
After Shanghai, it will go on to Nanjing, Jiangsu province, on April 4. Then it will tour Beijing, where it will present Beethoven's Symphony 6 and 7 on April 6, and Symphony 4 and 5 on April 7, respectively, at the National Center for the Performing Arts.
In Shanghai, Wiener Symphoniker will play the complete Beethoven cycle of nine symphonies, says managing director of the orchestra, Johannes Neubert.
"Because Shanghai was the most interested in the complete cycle", and the theater happened to be available, he says. "We are very happy to do it."
The 117-year-old orchestra was the first concert orchestra in Vienna, which also does lots of recordings, Neubert says. Together with the renowned Vienna Philharmonic, which is more famous for playing opera productions, the symphony is known for the traditional "Vienna sound".
The signature Vienna sound is most recognizable in the strings, explains chief conductor Philippe Jordan. The Swiss maestro is also music director of the Opera National de Paris in France.
Jordan says the famous Vienna sound on the strings is "warm and sweet, with lots of vibrato playing that makes it sugary, with gliding notes and portamenti".
Playing the Beethoven symphonies with the special Vienna sound is less hard or aggressive, even when sometimes Beethoven requires that. "It is always a beautiful sound," he says.
The year 2017 marks the 190th anniversary of the death of Beethoven (1770-1827), the most important composer of symphonies. Beethoven created all his nine symphonies in Vienna, where they were also premiered.
As an orchestra in Vienna, "Beethoven was in our DNA", says Neubert.
Wiener Symphoniker has always played the Beethoven symphonies in a cycle every 20 years, but it is "definitely a very special occasion" to play it four nights in a row, he says.
Beethoven's music is so strong, human and the message so great, that "after every concert, the musicians and me, we are all really exhausted", says Jordan.
"You have to give it everything, if you really want to play it the way he marked it.
"Going through all four concerts and really experiencing a walk of life with the same orchestra, the same conductor and hopefully the same audience participating ...it is like we grow together to be a family.
"It is a musical experience you will never forget."
If you go
7:30 pm, March 31 to April 2. Shanghai Oriental Art Center - Concert Hall, 425 Dingxiang Road, Pudong, Shanghai. 021-6854-1234.
7:30 pm, April 4. Nanjing Poly Theater, 6 Yecheng Road, Nanjing, Jiangsu province. 025-5883-9008.
7:30 pm, April 6-7. National Center for the Performing Arts, 2 Chang'an Street West, Xicheng district, Beijing. 010-6655-0000.