Survey says domestic films not making big impact in neighboring markets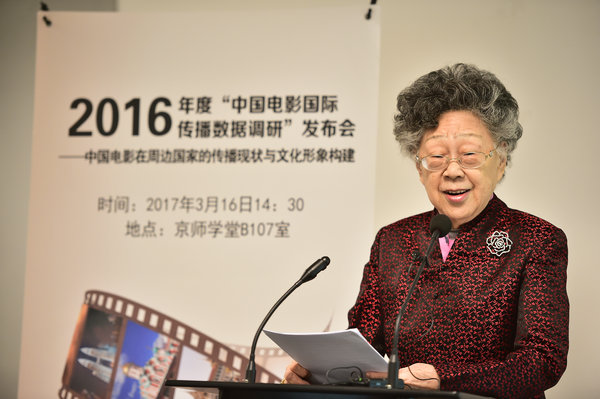 Huang Huilin speaks about the annual report on the global influence of Chinese cinema. [Photo provided to China Daily]
Chinese filmmakers are now seeking to tap the highly developed movie markets of North America and Europe. But what about the countries in China's neighborhood? Are Chinese films doing well there?
The answer is that more needs to be done, according to the annual report on the global influence of Chinese cinema, recently released by the Academy for International Communication of Chinese Culture affiliated with Beijing Normal University.
The report, which was compiled after five months of data collection and analysis, says about 28 percent of those surveyed say they didn't watch any Chinese film in 2016. And 41 percent say they watched five or fewer Chinese films in 2016. Only 6.9 percent of those surveyed say they watched more than 20 Chinese films in 2016.
The study is based on about 1,500 detailed answer forms, sent to filmgoers in 16 countries near China.
One surprising finding was that, though China is part of East Asia, Chinese films have less influence in East Asian countries (like Japan and South Korea), compared with South Asia, Southeast Asia and Central Asia, according to the report's main author Huang Huilin, a professor and the head of the academy.
Japan's viewing average was 1.21 Chinese films a year. South Korea's was 1.8.
"It (the low figures) may be partly because of the similarities between Chinese and other East Asian cultures," says Huang. "Sometimes, different cultures with similar origins can be mutually exclusive.
"However, it also shows that more needs to be done to improve the quality of Chinese films and promotion methods."
East Asia is also less sensitive to the modernity (high-speed trains and WeChat) conveyed via Chinese movies, which Huang attributes to the region's technologically advanced status.
In contrast, Southeast Asia, which has large Chinese communities and is greatly influenced by Hong Kong and Taiwan films, shows a much stronger interest in Chinese movies.
The viewing average for Chinese films in Vietnam was 3.71 in 2016.
The survey also shows that patriotism, emotional connection among family members of different generations and an emphasis on collectivism were three important takeaways from Chinese films for moviegoers in neighboring countries.