Canada returns cultural relics, fossils smuggled from China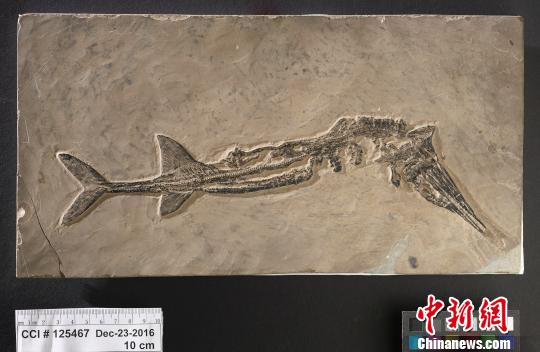 The 220-million-year-old Saurichthys fish fossil is among the items that the Canadian government returned to China. [Photo/Chinanews.com]
The Canadian government returned several pieces of cultural relics and ancient fossils that had been smuggled from China illegally. The handover ceremony was held in Ottawa, capital of Canada, on Jan 18, 2017.
The items being returned include a 220-million-year-old Saurichthys fish fossil and a 250-million-year-old fossil of an Ichthyosaur, a dolphin-like reptile that featured a long snout and big eyes, as well as a pair of carved wooden roof supports for Buddhist architecture from Southwest China's Yunnan province.
According to the Canadian government, these objects were illegally exported from China and were intercepted in Canada by the Canada Border Services Agency.
China is one of the countries most seriously plagued with the loss of cultural relics overseas, and so far, China has signed bilateral agreements with 18 countries to fight smuggling and illegal trafficking of cultural property.
Canada has returned cultural objects to China on two other occasions, including in 2010, when it returned 35 fish, plant, insects and reptile fossils from Liaoning province, believed to be between 125 and 150 million years old.