Musical performance rings in Chinese New Year in Kazakhstan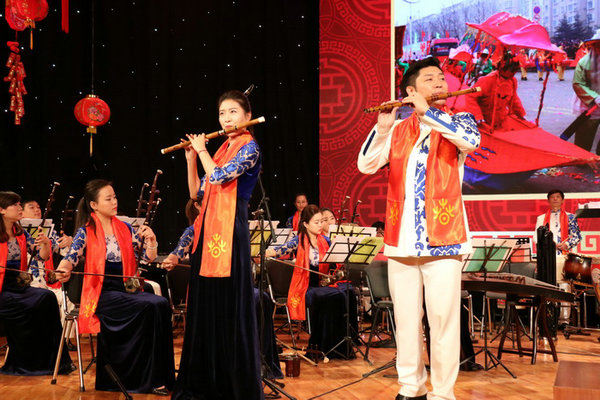 Chinese artists from Guangdong National Orchestra of China perform at the 2017 Happy Chinese New Year concert, Almaty, Kazakhstan, Jan 12, 2017. [Photo/Chinaculture.org]
In celebration of the upcoming Chinese Lunar New Year and the 25th anniversary of the establishment of diplomatic relations between China and Kazakhstan, the 2017 Happy Chinese New Year concert was held in Almaty on Jan 12.
Consul-General Zhang Wei from the Consulate General of China in Almaty and about 500 Chinese and Kazakhstan government officials and representatives attended the concert.
Zhang highly praised the cooperative achievements in politics, economy and culture between the two nations in the past 25 years. He said the 2017 Happy Chinese New Year event in Kazakhstan will mark a new beginning to the countries' relationship. Communication and cooperation will be strengthened as relations deepen and develop in the future.
At the concert, traditional Chinese musical instruments played classic folk songs from Lingnan in Guangdong province and traditional music from Northwest China, including Sai Long Duo Jin, Liang Xiao and Shi Mian Mai Fu.
Artists from both countries also performed traditional Kazakhstan music together, which highlighted the event.
A Happy Chinese New Year photo exhibition was held along with the concert.
The event was organized by the Ministry of Culture of China, the Consulate General of China in Almaty and Guangdong National Orchestra of China.