Hip-hop star Vinida blazes fresh trail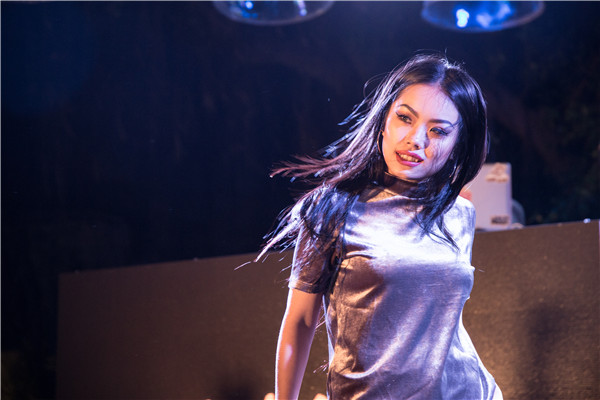 Vinida released her debut single Dirty Mind on Dec 9. [Photo provided to China Daily]
In the summer, when rapper Vinida made her debut on Sing! China, a popular variety show aired by Zhejiang Satellite TV, the 22-year-old became a star among the country's emerging singers.
Wearing tight jeans, a tank top and high heels, Vinida, whose real name is Weng Ying, is a rare sight on China's music scene mainly because she is a female rapper.
Based in Fuzhou, East China's Fujian province, she has adapted songs such as Taiwan pop icon Jay Chou's Cowboy On the Run and Give Me a Kiss, a song from 1940s Shanghai.
She has 350,000 followers on Sina Weibo, and was recently noticed by Shen Lihui, CEO of Modernsky, one of the largest indie record labels on the Chinese mainland.
On Dec 9, Modernsky released Vinida's debut single, Dirty Mind, for which she wrote some smart and edgy lyrics.
Early next year, she will release her first full album, which will include 10 original tracks written by her.
"When I saw her performing on TV, I was impressed by how she presented her music. Many hip-hop musicians are emerging from the underground and she came right on time," says Shen, a former rock singer who founded Modernsky in 1997 to promote indie rock in China.
Hip-hop is a new area that Shen has set his eyes on. He recently founded a branch hip-hop record company under Modernsky, calling it MDSK, with the aim of supporting local talent.
"Shen started as a rock singer-songwriter and he knows what matters to a singer-writer," Vinida says.
"I am excited that people noticed me on the TV program because I sing not just for myself but also for fellow rappers here."
She was a top contestant on the TV show.