African students learn kung fu and Chinese in Tianjin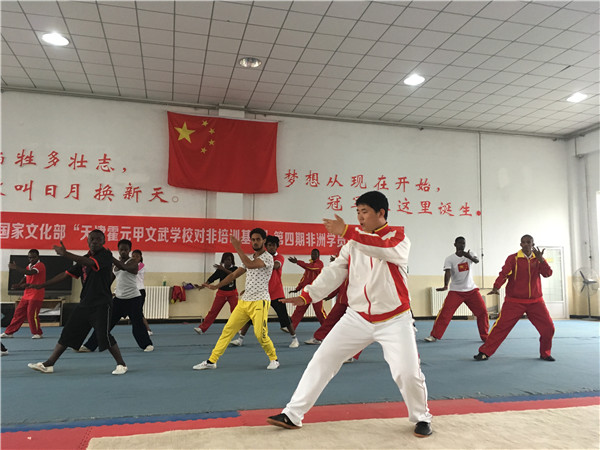 A martial arts training program is offered by the Tianjin Huo Yuanjia Civil and Military School for kung fu fans from Africa. [Photo by Yang Yang/China Daily]
Last year, when Makina Eunice Agmes graduated in international law from university in Uganda, she realized she needed to learn more to get a satisfactory job in the field.
"There are so many law graduates in our country, which is why I felt I needed to learn something extra to stand out," Agmes, 22, tells China Daily in the northern Chinese city of Tianjin.
Since August, she and 18 other young Africans have been learning martial arts and Chinese at the Tianjin Huo Yuanjia Civil and Military School.
Earlier, Agmes had enrolled into the Confucius Institute of her university where her Chinese studies began, and that eventually got her to China.
Martial arts training is only a part of the "one thousand talents" program Chinese government started in January to help African students and officials understand cultural management better.
Besides martial arts, the program includes studying the management of theaters, the protection and preservation of intangible cultural heritage, and creative design.
So far, more than 300 Africans have received such training in the Chinese cities of Chengdu, Beijing, Shenzhen and Hangzhou, in addition to Tianjin.
In Chengdu, the training focuses on how to protect and preserve intangible cultural heritage, with Chinese experts sharing their experience with cultural officials from Africa.
In Tianjin, the ongoing martial arts training is being provided to the 19 students from Ethiopia, Mozambique, Rwanda, Tanzania and Uganda.
Among the students are Dino Fantahun Tsegaye, 25, who ran a kung fu school in Ethiopia, and Mohammed Abdulfetah Abdi, 27, a film producer from the same country.
Tsegaye is a top kung fu talent in his country, a champion of free combat. Before he came to China, he had practiced kung fu for five years.
After three months in Tianjin, he not only perfected his skills in southern-style boxing, but also made great friends here. The southern-style boxing, popular in Guangdong and Fujian provinces, is known for its short punches and nimble motions.