Tianqiao Performing Arts Center lights a birthday candle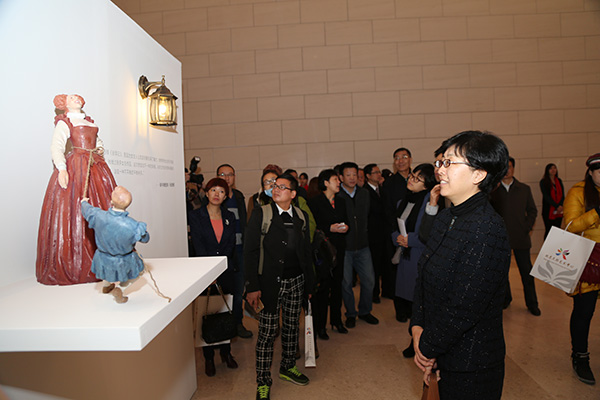 [Photo provided to China Daily]
Tianqiao Performing Arts Center in Beijing celebrated its first birthday on Nov 20.
Debuting with Andrew Lloyd Webber's musical The Phantom of the Opera when it opened last year, the venue has staged nearly 600 performances by more than 150 theatrical companies from around the world, ranging from musicals, dramas, dances to concerts and traditional Chinese operas. More than 500,000 people came to the venue to watch shows.
On the occasion of the venue's birthday, the center teamed up with Shakespeare's Globe Theatre to launch The Complete Walk of Shakespeare Multimedia Exhibition, including 37 specially-made 10-minute films, celebrating Shakespeare's life, work and legacy.
The exhibition is free to the public and continues through Dec 25.
In 2017, four hit musicals will be staged at Tianqiao Performing Arts Center, including Wicked, Jersey Boys and Komische Oper Berlin's production of The Magic Flute.
Tianqiao Performing Arts Center will also work with London's Southbank Centre to bring the WOW-Women of the World festival to Beijing for the first time, which includes talks, performances, music, exhibitions and workshops.
The Tianqiao area was once a hub for folk arts and small businesses in the late 19th and early 20th centuries. Located in the capital's downtown, visitors can find pet markets and teahouses, and enjoy performances of cross-talk shows, acrobatics and operas. However, this landmark from an earlier chapter of Beijing's history was threatened by the country's fast development and urbanization.
Covering more than 16,000 square meters, Tianqiao Performing Arts Center has four theaters; the biggest has a capacity of 1,600 and the smaller ones each cater to around 300 people. Additionally, the outdoor square outside the venue also serves as a place for arts and entertainment for the general public.
Related:
Comedy based on Bard's works set to make Beijing debut