Manchu 'Banjin Festival' to hold series of events in Chengde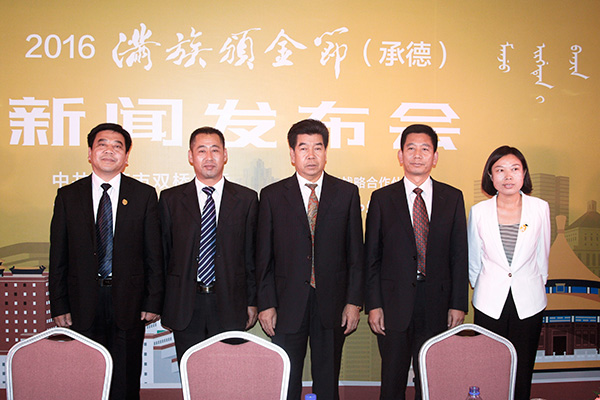 Organizers attend a press conference of 2016 Manchu "Banjin Festival". [Photo provided to China Daily]
The 2016 Manchu "Banjin Festival" will be held in Chengde from Oct 28 to Nov 12, said the organizers on Friday.
Song Chengli, secretary of the CPC committee of Shuangqiao district of Chengde city, said it is the first time that Chengde will organize such a great event for "Banjin Festival". The aim of the function is to carry forward traditional Chinese culture and virtues, enhancing Shuangqiao district's communications with others, as well as enriching spiritual and cultural life of the local people.
"Banjin Festival" in Manchu language means "birth" or "vitality".
In 1635, Hong Taiji, an Emperor during the Qing Dynasty (1636-1912), also referred to as Abahai in Western literature, issued an edict and officially changed the name of his people from Jurchen to Manchu. The "Banjin Festival" became the birthday of Manchu people from then on.
Every year, on the 13th day of the 10th month of the traditional Chinese calendar, Manchu people celebrate their festival with singing and dancing.
Yao Hua, president of Chengde Manchu Association, said that the "Banjin Festival" not only symbolizes the birth of Manchu, but also represents the happiness and the prosperity of Manchu people under the leadership of the Communist Party of China.
Related:
Sixth Yangtze River Piano Festival opens in Yichang