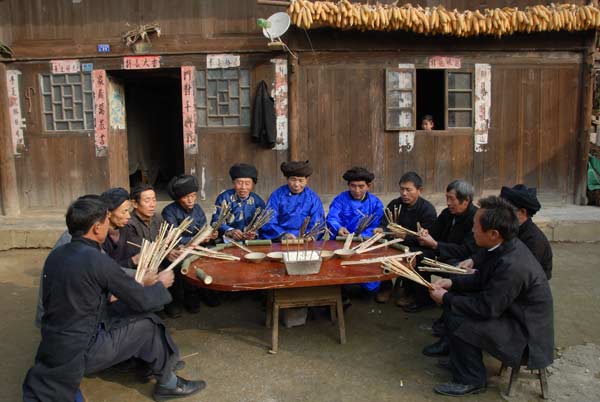 Locals learn to hum the Jia from an elderly villager in Taichen village in Danzhai county, Guizhou province. Photos Provided to China Daily
A lifetime dedicated to recording the ancient oral tradition of the Miao ethnic group has won Wang Fenggang many accolades, but the severely disabled man's greatest reward is knowing the culture will be preserved for future generations. Li Jun reports.
The majority of the ethnic Miao people live in Guizhou province, where their ancient lore called the Jia (or Jaxlil in the Miao language) has been passed down through generations.
The Jia is the story of the Miao - their myths about the beginning of the world, their history, laws and customs. Like the Bible for Christians, the Jia contains all the values and beliefs of Miao.
For generations, the Jia has been passed down through oral histories and storytelling, and like most oral traditions around the world, the Jia is in grave danger of dying out.
"In the 1950s, there were around a dozen older villagers who could hum the Jia in Dan-zhai county. But now there is only one man left, and moreover, he has no successors," says Wang Fenggang, the 69-year-old who has spent most of his life collecting stories from the Jia.
Over the past 30 years, Wang has recorded hundreds of hours of Jia singing by elders from the Miao ethnic group and has documented tens of thousands of lines to preserve the endangered oral tradition.
Despite his physical disability, Wang persisted in protecting the Jia and the culture of the Miao ethnic group.
After years of collecting raw material, Wang began to compile the book of Jia in 2004, and four years later he finished the work - Miao Zu Jia Li (The Jia of Miao Ethnic Group). The book was published in 2009.