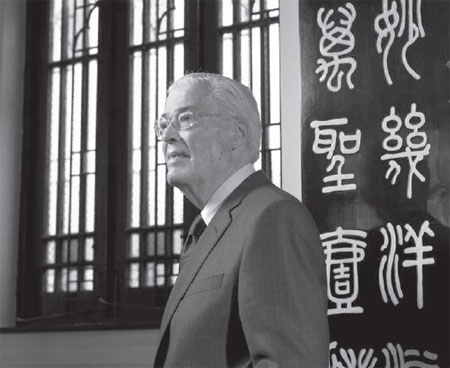 Journalist-turned-philanthropist Robert Ho Hung-ngai wants to captivate the younger generation with stories from their own culture through educational programs. [Photo provided to China Daily]
"There are so many treasures in China but so many people are ignorant about them," Robert Ho Hung-ngai says softly.
The journalist-turned-philanthropist wants to captivate the younger generation as witnesses to their own culture. During his recent visit to Beijing, the 81-year-old visited an elementary school and shared We All Live in the Forbidden City, an educational program that was received warmly by the students.
Jointly produced by the Robert H.N. Ho Family Foundation and the Hong Kong-based Design and Cultural Studies Workshop, the educational program, which began in 2008, includes books in traditional and simplified Chinese, exhibitions and education workshops. The foundation also developed a 100-episode documentary television series, Forbidden City 100, broadcast on China Central Television's Documentary Channel nationally since January 2013.
The goal is to "simplify the Chinese culture into a form that young people can appreciate", says Ho, who launched the foundation in 2005. "We don't think it has been exposed and understood enough in the world other than in museums."
The foundation brings to life the ancient palace through books, interactive stories and installations, which will be translated into English, Spanish and French in 2014. The foundation is also planning to make the books animated on the Internet, which will enable young people to experience and study the Forbidden City in a video game-like format.
Ho says his outreach reflects a time-honored family tradition since the time of his grandfather, Sir Robert Hotung. One of the most notable and richest families in Hong Kong's history, the Hotungs left young Ho with a great sense of legacy.
"My grandfather always told me that before you receive you must learn to give. It's my family motto, which was drilled into me by my grandfather," Ho says.
Robert Hotung, who was born to a Dutch father and a Chinese mother, was known for financing China's 1911 revolution led by Sun Yat-sen. The twice-knighted Hotung was also recognized for his work to boost Sino-British ties during the late 19th and early 20th centuries. His successful business career, meanwhile, spanned property, media and stock investments.
Ho was raised by his grandparents, since his parents were at the war's frontline. His father served under Marshal Zhang Xueliang in Northeast China before the Japanese attack and occupation in 1931.
Instead of jumping into one of his family's successful businesses, Ho studied journalism at Columbia University and got his master's degree in 1958. He worked as a reporter for National Geographic and also worked at the United Nations for a group of newspapers, where he witnessed the famous shoe-banging incident of then Soviet leader Nikita Khrushchev at the General Assembly.
Ho returned to Hong Kong from the United States to work in his family's two newspapers in the 1970s. Years as a journalist in the US and Hong Kong had given him a passion for seeing and fostering social changes.
Bearing the family motto in mind, he founded the foundation with two visions: supporting Chinese arts and culture, and spreading Buddhist concepts and ideas to the world, especially to connect Buddhism with modern society. Ho says his grandfather's second wife, Lady Clara, was a devout Buddhist and set up a temple in Hong Kong in 1935, so Buddhism has been part of the family.
The foundation has given endowments for Buddhist programs at universities, including Harvard University and Stanford University. A gift from another Ho foundation to the University of British Columbia helped to establish North America's first contemporary Buddhist studies program.

Today, Ho lives in Vancouver, Canada, but makes frequent trips to China to promote his charitable foundation. His eldest son, Robert Ho Yau-chung, is the chairman of the foundation, which supported Canada's first Terracotta Warriors exhibition at Toronto's Royal Ontario Museum in 2010.
This year, the foundation gave a grant to the Guggenheim Museum in New York. With it, the museum commissions major works from at least three artists from the Chinese mainland, Taiwan, Hong Kong or Macao that will enter the Guggenheim's permanent collection as part of the foundation's collection. Beijing-based artist Wang Jianwei became the first artist commissioned and his works will be exhibited in fall 2014.
"The Guggenheim's partnership with the foundation since our first project in 2007 has been transformational for the institution. It allows us to think big but also deeply about Chinese art, as well as Asian art as a whole, in a global context," says Alexandra Munroe, senior curator of Asian Art of the Guggenheim Museum.
"We want to give contemporary Chinese artists a chance to express their talent," says Ho. "Right now, we feel that a lot of the artists come out with 'products' because they see maybe the market is for that, the gallery is for that."
Forget the market, he says, adding that at the foundation, "you are chosen but your painting is not going to be sold. You get to think what you really want. Nobody is going to interfere."