How overcoming SARS opitomized the city's resilience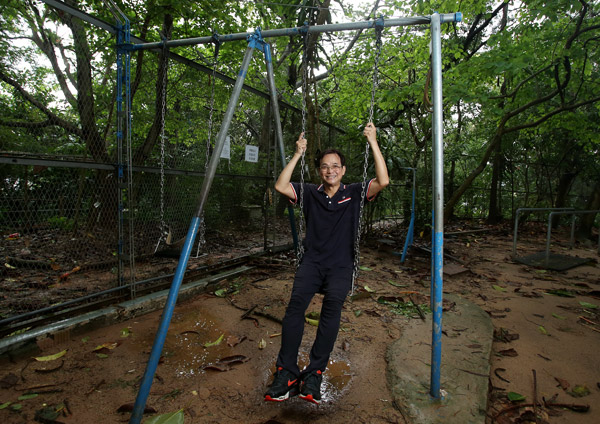 So Chi-keung, a SARS survivor, visits the physical therapy workshop he built from scratch. [Photo by PARKER ZHENG/CHINA DAILY]
An uphill struggle to regain full fitness and love of life
By SHADOW LI
So Chi-keung is still haunted by images of patients in his hospital ward being wheeled off to the morgue, one by one. He was quarantined for a month, wondering if his number would come up next.
In 2003, Severe Acute Respiratory Syndrome overwhelmed Hong Kong, but So lived in denial. He complained that the thermometer used to take his temperature was broken, but when a different thermometer was used, his temperature remained unchanged. He started having breathing difficulties and felt as though he was drowning.
Today, So, 52, doesn't give the impression of someone who has survived a grave illness. The shadows of the emaciated patient who recovered from the deadly epidemic 14 years ago have gone, and he was passionate and full of vigor as he described how he survived the deadly illness and rediscovered the joy of living.
So contracted the virus when he visited an uncle, who was recovering from a leg injury in the Alice Ho Miu Ling Nethersole Hospital in the New Territories. On the day of his visit-April 1, 2003-several patients with undiagnosed SARS were transferred to the Nethersole from the Prince of Wales Hospital, the scene of the city's first outbreak.
A week later, the Nethersole asked people who had visited recently to undergo tests for SARS.
"The moment I heard the news, I felt a shiver run through my body. Then I began to develop a low-grade fever," So said. He reported to the hospital, and was relieved when the doctor told him he was OK.
He was given a referral slip to a pulmonologist in case his fever worsened, so when the fever didn't go away, he visited the specialist.
As soon as So outlined his symptoms, the doctor ordered the entire clinic to be sterilized.
The test results were positive, and So was wrapped in a plastic sheet and sent to a quarantine ward at the Princess Margaret Hospital in Kwai Chung. His wife and children were also quarantined for 10 days until they were shown to be unaffected.
When So was free of the virus, he was transferred to a hospital in Wong Tai Sin, Kowloon, for follow-up treatment.
"I turned down the offer of help from a member of the medical staff when I was getting into the ambulance. I was thinking, 'Finally, I can get back out there'. But when I tried to lift my foot, I almost fell. I had no strength. I was a walking skeleton," he recalled.
A month in quarantine in Wong Tai Sin followed, and after being discharged, So stayed at a factory he owned. It was a month before he dared go home.
In all, he was separated from his family for three months: "We made phone calls almost every day and I kept reminding my children to wash their hands thoroughly."
His homecoming was colored by fatigue, and aches and pains. He had amnesia, anxiety and depression, and his self-confidence had vanished.
Full recovery took seven years, which he mostly spent in bed: "It felt like my body had degenerated. I felt like an old man, while still in my 50s."
He gained weight, rising to more than 75 kilograms. When the doctor advised more exercise he tried jogging, but it hurt his feet. After that, he simply strolled around. Eventually, he found his way to Woh Chai Shan, a hill in Kowloon.
So was elated that he could scale the hill. Since then, he has visited the mountain every day. Initially, he had to stop and rest four times, but now he climbs the hill effortlessly.
A new direction opened up, too. At age 12, he had started learning metal work, and later he opened a small factory molding jewelry accessories. That all stopped when he contracted SARS.
Re-energized by his recovery, So began work on an ambitious plan.
He decided to build a physical therapy workshop at the top of Woh Chai Shan. He carried pieces of metal up the hill, one at a time, creating simple gym machines.
Gradually, his plan took shape, with pull-up bars, stretching machines and even swings in place. It took four years to assemble 15 exercise machines.
The site he chose is now a playground. He is especially proud of a machine he designed for full-body acupoint massage. It was the most-popular machine for visitors, so he built two more.
"After SARS, I found meaning in life. I want to leave something meaningful behind," he said.