A piece of Hong Kong: Old and new
Editor's note: Gang wei, literally meaning Hong Kong taste, is a concept often talked about, but almost impossible to define. No one can tell what the taste is exactly, yet it can be found everywhere in the city - in the ting-a-ling of the trams, the shumai in tea houses and the burning incense in the Tin Hau Temple. As the Hong Kong Special Administrative Region celebrates the 20th anniversary of its return to China, we bring the series A piece of Hong Kong to try and explore the spirit of Hong Kong from some of the most intriguing aspects of the city.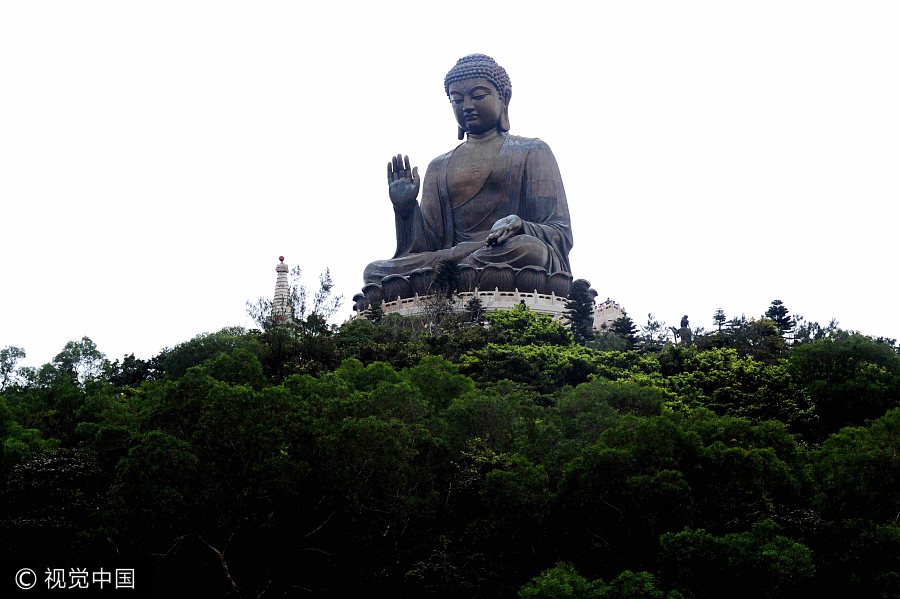 [Photo/VCG]
Tian Tan Buddha
Hong Kong is a city with no clear division between the past and present. It is home to the most skyscrapers in the world and more than 300 monasteries. The remote Po Lin Monastery, hidden away in lush mountains, became a popular attraction when the extraordinary Tian Tan Buddha statue was erected in 1993.
Sitting 34 meters high and facing north to look over the Chinese people, this majestic bronze Buddha attracts pilgrims from all over Asia. The eyes, lips, incline of the head and right hand, which is raised to deliver a blessing to all, unite to bring a humbling depth of character and dignity to the massive Buddha, which took 12 years to complete.