Rural areas say hello to modern facilities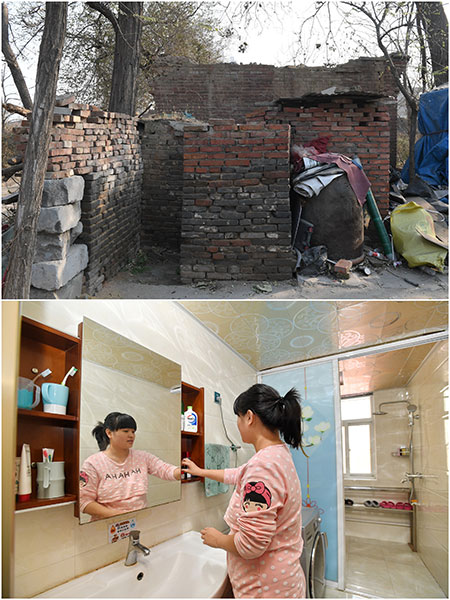 Above: An old-fashioned pit toilet in Xiejiaotou, a village in Zhengding, Hebei province. Below: A woman tidies up the bathroom in her home in Tayuanzhuang, Zhengding, on Monday. [Photo/Xinhua]
SHIJIAZHUANG-For months, Feng Xiumin's house in Yueliang village, Hebei province has been a "must see" for visiting relatives and friends. The first thing they want is the "toilet tour".
"When they arrive, they all say, Let us see your fancy, high-end toilet!" Feng said.
Feng's "fancy, high-end toilet" is one of the vacuum models authorities installed for Yueliang residents. By May, all the village's toilets had been replaced with vacuum designs, with no more of the stinky, fly-infested, dry squat toilets with tanks underneath that were used in the past. When the project was completed, more than 400 families lit firecrackers to celebrate.
Vacuum toilets were first installed on airplanes. They were later used in other places having limited space and a shortage of water, such as on ships and high-speed trains, said Fu Yanfen, of the Chinese Center for Disease Control and Prevention.
"The vacuum toilets in Yueliang village are based on a similar design," Fu said. "First, you press a button to suck the air out; then you press another button to get rid of the waste."
The toilet revolution in Yueliang is just one part of a broader picture.
In 2015, the National Tourism Administration began the three-year program, planning to install 33,000 new toilets and upgrade another 24,000 existing ones across the country, to provide a sufficient number of clean, free, well-managed toilets for the public.
During the past few years, the revolution has been extended to rural parts of the country, including Yueliang.
China's high-speed trains usually have 16 vacuum toilets; in Yueliang, each family has two, said Feng Guochao, the village Party chief.
"That means almost 800 vacuum toilets have been installed," the Party chief said.
A 20-kilometer vacuum pipeline has been built, and all wastewater, including some from the toilets, is transferred from that into the main municipal pipeline, according to Feng Guochao.
"Some of the human waste from the toilets is collected to make organic fertilizer," he said.
According to figures released by the State Council, China's Cabinet, the toilet revolution in rural China is speeding up. The ratio of clean toilets in the countryside has increased from 71.7 percent in 2012 to 80.4 percent in 2016, significantly improving rural sanitation conditions, lowering the concentration of flies and mosquitoes and effectively preventing the spread of some diseases.
Built more than 1,700 years ago, Yueliang is a well-known village in Jizhou. It is the ancestral home of the Feng family, which produced many famous historical figures.
Local authorities wanted to use tourism to power Yueliang's economy, but poor hygiene standards were a stumbling block.
"The development of the tourism industry depends on having a good environment," Feng Guochao said. "Only by achieving a clean environment can we truly encourage more tourists to come."
Xinhua

Editor's picks