How expats are making their Chinese dream come true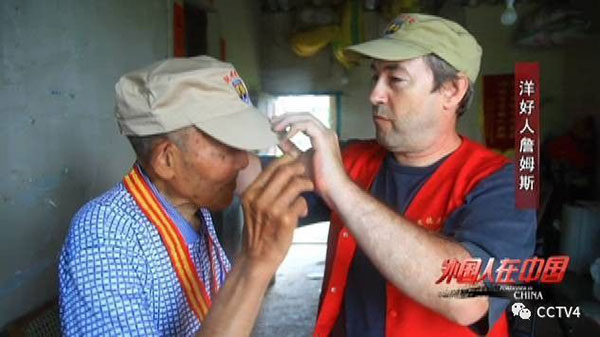 James helps adjust a veteran's hat. [Photo/screeshot of CCTV]
Foreign teacher supports charities to realize his Chinese dream
A foreign teacher from the UK has spent much time doing charity work, including years of visiting veterans and funding impoverished students in Changde, Central China's Hunan province.
James is from Bristol, UK. He has worked as a foreign teacher at Hunan University of Arts and Science for eight years and is recognized as a "legendary" foreign teacher by students.
Since he was a child, he felt like he had a bond with China. And now he's been working on "serving the people wholeheartedly".
James is concerned with a group of veterans who fought in the War of Resistance Against Japanese Aggression (1937-45). He worked as a volunteer in Changde's local aid center for those veterans for over six years.
He often goes together with other volunteers to distant villages to visit veterans. "Charity is a civic duty. Veterans shouldn't be neglected. Society should and must help them. It's our duty," James said.
In September 2014, James won Hunan's seventh Xiaoxiang Friendship Award, an award granted by the People's Government of Hunan province to foreigners having made contributions to Hunan in certain sectors.
James is applying for a Chinese green card. He hopes to be able to become rooted in China and take real actions to achieve his Chinese dream step by step.
"A person might be successful if they have enough food to eat and lots of money. But my dream is to help more people to live a better life."

Editor's picks