Jinan remains most congested city in China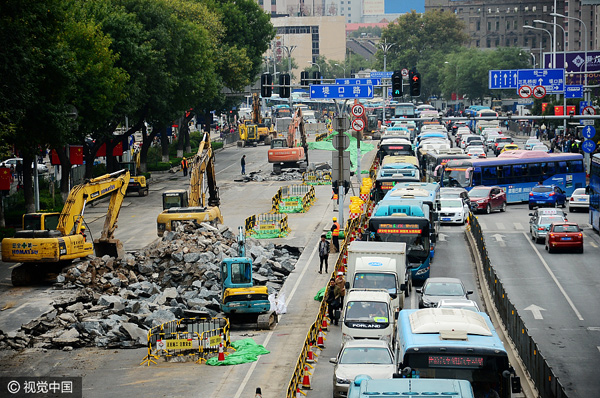 Road works caused bumper-to-bumper traffic on a road in Jinan, Shandong province, Oct 9, 2016. [Photo/VCG]
Jinan, the capital city of East China's Shandong province, retained the title of "the most congested Chinese city" in a recent report on transportation conditions in major Chinese cities in the third quarter of 2017.
According to the report released Monday by domestic navigation company Amap and institutes under the Ministry of Transport, the time-delay index in rush-hour congestion in Jinan reached 2.065 in third quarter this year, though a little bit better than 2.136 in first quarter.
The index shows a ratio of the time citizens spend on traveling during the rush hour compared to the time they spend under free flow of traffic. A higher number shows more serious congestion.
Other nine cities on the top 10 most congested are Harbin, Beijing, Guangzhou, Chongqing, Dalian, Changchun, Shanghai, Xi'an, and Kunming.
For the first time, the report introduced the congestion warning index, which shows that if conditions do not change, Changchun, Zhuhai and Foshan will become the most congested in the future.
However, Hangzhou, Tianjin and Zhenshen are likely to see less congestion in the future, according to the warning index.