Recruiters starting to employ social media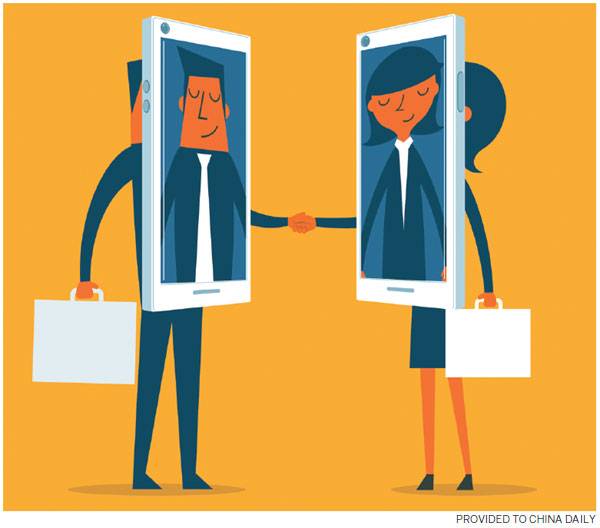 "These people are precious to 'talent sourcers' because they are usually influential figures in the industry or they play a big role in their current positions," she said.
Recruitment experts believe that hiring via social media will become an important trend because it combines people's everyday need for communication and their expectations for career development.
Wang Huan, head of customer success at LinkedIn China, said the platform can provide companies with some of the information they require, such as identifying the cities in which experts in a particular field gather - especially Chinese people who are usually favored by Chinese companies because of their linguistic and cultural backgrounds - and make them aware of rivals who are also competing to hire those talent.
ENN and LinkedIn jointly designed job descriptions for desired talent and selected 320 of the platform's users via big-data technology and recruiters. The people were then contacted and invited to attend seminars in Boston and San Francisco.
Similarly, Taikang Insurance Group, which plans to build an information technology team of more than 10,000 people within three years for technology-driven upgrades, signed job contracts with 16 people in Seattle after cooperating with LinkedIn to conduct online big-data screening along with offline seminars.
"We expected to find highly qualified job candidates through the recruitment channel so we came up with senior-level positions in Beijing, Shanghai, Wuhan, Hubei province, and Hong Kong," said Miao Li, Taikang's chief human resources officer.
Some companies also use WeChat and Weibo, the Chinese equivalents of Twitter, to look for new employees.
Wu Xiaobing, a sourcing specialist at the Shanghai office of Bayer, the German pharmaceutical and life sciences company, said it is common for professionals in different industries and cities to have a chat group on WeChat, so many talent sourcers send recruitment information to the groups.

Editor's picks