Smog in North China to spike on Tuesday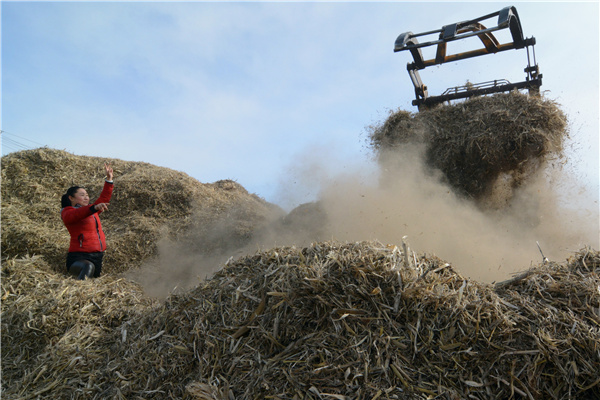 Corn stalks are processed for fuel in Heishan county, Liaoning province, earlier this month. The county handles 1.54 million metric tons of corn stalks annually. Li Tiecheng/China Daily 
Beijing has issued a blue alert for severe air pollution, which is forecast to peak on Tuesday and ease that night, the city's environmental authority said on Monday.
Air quality is expected to worsen to its second-worst level in Beijing.
Air will be bad all over North China, but pollution will be especially heavy in the city's southern districts because of geography and proximity to polluting industries, the municipal environmental monitoring center said on Monday.
Beijing issued its blue alert, the lowest level in the emergency response system, on Monday afternoon, suspending outdoor demolition activities at construction sites.
The disadvantageous weather, which makes it hard to disperse the airborne pollutants in Beijing and neighboring regions, is the major reason for the back-to-back days of heavy smog.
Since coal-burning heating services began on Nov 15 in China's northern region, Beijing, Tianjin, Hebei province and neighboring areas are required to step up restrictions to cut emissions, the Ministry of Environmental Protection said.
But in the northeast, other sources contribute, the ministry found - especially the burning of corn stalks.
From Sept 20 to Nov 15, satellites found 3,638 burning sites nationwide, an increase of 73 percent over the same period last year, data from the ministry's Satellite Environment Center showed.
Under high pressure from environmental inspections, the Beijing-Tianjin-Hebei region and neighboring provinces saw a sharp decrease. No burning sites were found in Henan province, the center said.
By contrast, the northeastern region worsened. In Heilongjiang province, the number of sites burning corn stalks increased by 41 percent during the period and was found to have increased nearly eightfold - although with only a handful of burn sites - in Jilin.
"For example, the satellites found 164 burn sites in Heilongjiang and 17 in Jilin on Nov 2," said Zhang Lijuan, a senior engineer working at the center, on China National Radio on Monday.
The latest data from the ministry showed that of the top 10 cities with the worst air pollution in October, Harbin, Heilongjiang province, ranked second in air pollution; Changchun, Jilin province, was eighth.
The soaring increase in the burning of corn stalks has become a major factor in air pollution, said Liu Youbin, a senior official in the ministry's publicity department after a news briefing on controlling air pollution in winter. The ministry sent inspection teams to monitor the situation and urge the governments to do more for cleaner air.
zhengjinran@chinadaily.com.cn