Chongqing 'glass girl' greets life with a smile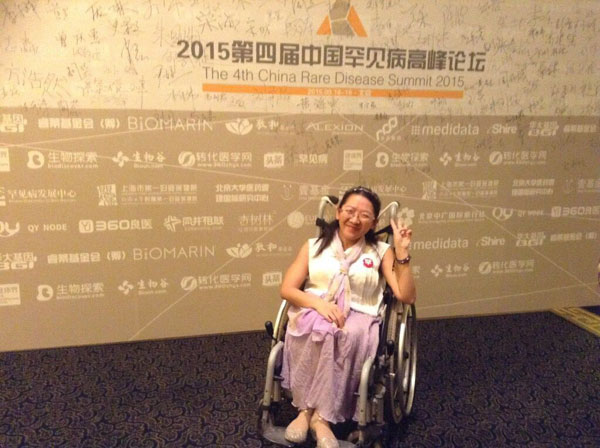 Su Xiangyi [Photo provided to chinadaily.com.cn]
Though her bones can easily shatter, her spirit is strong as steel.
Su Xiangyi, 31, was abandoned as a baby girl when her biological parents discovered she had osteogenesis imperfecta, also known as brittle bone disease.
Due to this disease, her bones have broken 16 times. This fragility has led some to call her "glass girl".
Su cannot walk, so she was unable to attend school. But she taught herself the entire curriculum from primary school to high school. She also finished an undergraduate study of English literature at home.
In 2009 she started writing and doing translation.
Unfortunately, both of her beloved foster parents died in 2011 and she had to live by herself.
In the past, her foster parents took good care of her daily needs, so she didn't know how to cook, shower or go out alone.
She overcame many physical challenges and quickly learned those essential life skills.
"I was very afraid at first when I started to live by myself," she said. "I often missed my foster parents and their love encourages me to continue."
In her spare time, she joined a charity group to help children with rare diseases. She visits children who also have her disease and gives them classes in the hospital. She also encourages them to learn as much knowledge as they can.
This year, Su even completed a five-day tour to Shanghai, Suzhou and Hangzhou.
She created a very thorough plan for her trip and didn't hesitate to ask for help.
"I called the railway stations for special assistance and many people would help me when I was in need," she said.
"People with disabilities should go out more and let more people see us living such a fulfilled life."
She plans to visit more places in China and even foreign countries.
"I want to learn more about the world and see how beautiful the world is," she said.
Recently, she was named as one of the Top Ten People with Disabilities in her hometown of Wanzhou district in Southwest China's Chongqing.

Editor's picks