Old couple finds audience, healing in livestream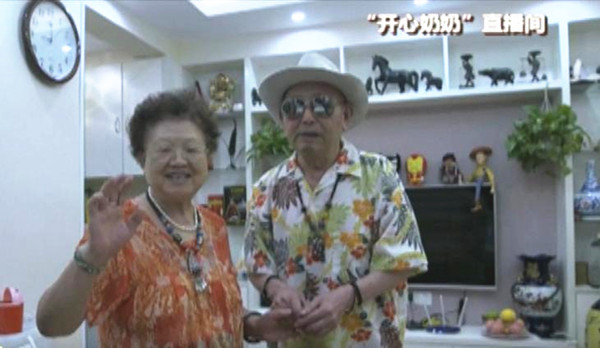 Seventy-six-year-old Cao Xuemei and her husband Cui Xingli. Photo from CCTV News
China's booming livestream community is not the sole provenance of young people. An old couple in Wuhan, Central China's Hubei province, have recently become rising internet stars.
Seventy-six-year-old Cao Xuemei and her husband Cui Xingli are hosts of their channel "kaixin nainai", or Happy Grandma. The silver-haired pair spends one and a half hours per day broadcasting at home, with tens of thousands of fans watching on the other side of the screen, according to a CCTV News report.
Grandma Cao often asks Grandpa Cui questions during the broadcast, such as "how old are you?" "Which grade are you in?" Cui gives answers like, "I'm eight." "I'm in Grade Four." Sometimes, Cui will just parrot what Cao says.
The conversation may amuse viewers, but the sad fact is Cui was diagnosed with Alzheimer's years ago. The memory loss disease is also one of the reasons why Cao launched their streaming channel last year, with the assistance of their granddaughter -- Cao believed this would help her husband recover some mental functions.
Through chatting with fans online, the duo has learned many internet buzzwords. What's more, Grandpa Cui's memory and spirit have improved significantly during one year's livestreaming. He can even remember some stories from his youth.
Cui was a technology engineer at China Railway Major Bridge Engineering Group Co., Ltd. Cao and their children followed him everywhere, as bridge projects took him all over. The family finally settled down in Wuhan after Cui retired. This year marks the couple's 54th wedding anniversary.
Grandpa Cui is fashionable on camera, not just clean and neat. The stream shows Cao's meticulous care, dated back to 1997, when Cui suffered a stroke for the first time. Two more strokes followed, and later Alzheimer's. He may have forgotten a lot, but he always remembers his wife's name, said daughter Cui Rong.
Netizens and fans were moved by their love after they learned the pair's story. "I worked at an institution with Alzheimer patients. I know exactly how difficult it is to look after them. Grandma is a great person," said one internet user on Sina Weibo, one of the country's most popular social media sites.
"Bless them. I like to watch such livestreaming. We should spend more time with family members in their old age. By the time they don't remember you and can't walk around with you anymore, you would regret it," another Weibo user added.

Editor's picks