Alibaba leads the fight against counterfeit goods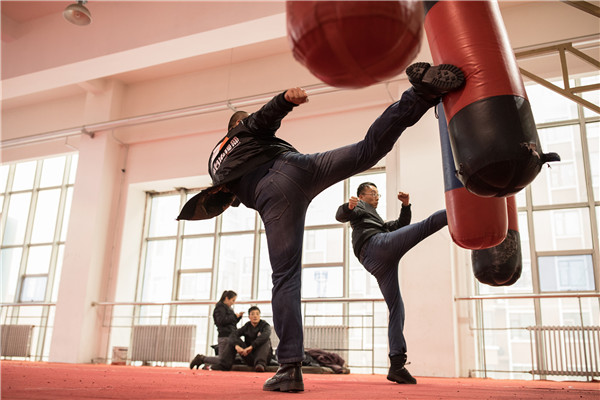 New team members work out at a training facility. [Photo by Zhou Gangfeng/For China Daily]
The online retailer is adopting strong measures to unearth vendors of fake items, as Guo Ying and Zhao Wanwei report for Xinhua China Features.
Members of a secret team working for the e-commerce giant Alibaba have the task of pretending to be online consumers who test-buy items from the billion-plus products on the company's platforms.
The team members spot-check about 100,000 products, spending approximately 100 million yuan ($15 million) a year on average.
"The spot-checks are not random. They are guided by big data from our platforms," said Qin Seng, the team leader. Using product ratings, consumer disputes and other information, the team builds a model to identify suspected counterfeit goods and the shops that sell them.
The whole process is videoed to retain the evidence. The sample purchases are sent to copyright holders or authoritative quality inspection agencies. If identified as fake, the products are removed from the platform and the vendors face closure of their online shops. If the products are identified as genuine, they are stored as Alibaba assets.
Alibaba's Storehouse of Counterfeit Evidence is a 300-square-meter warehouse in the company's Xixi Park complex, in Hangzhou, the capital of Zhejiang province. Counterfeit goods can be stored there as legal evidence for more than three years.
The spot-checks illustrate the breadth of China's battle against counterfeits in the internet era.
Chai Haitao, deputy director of the Office of the National Leading Group of the Fight against IPR Infringement and Counterfeiting, said the rapid development of China's internet economy means infringements and counterfeits are seen constantly.
"We need to strengthen cross-sector, cross-regional and cross-border cooperation to combat counterfeits. We also need to mobilize enterprises, industry organizations and the public," Chai said.
Alibaba's Anti-Counterfeiting Special Task Force, formed last year, actively works with local law enforcement agencies, according to Qin.
"After we clean up online shops selling counterfeits, the counterfeiters usually change their identities and places of dispatch, using more covert means to continue selling online," he said.
The team uses big data to identify counterfeits and the vendors, affiliated dealers and factories suspected of selling and producing fake items. They pass evidence to the public security authorities, and a number of other law-enforcement agencies, including those for commerce and industry, quality inspection, and food and drugs.
At the same time, the team members also investigate evidence in the field.