Savvy carpenter carves out a new niche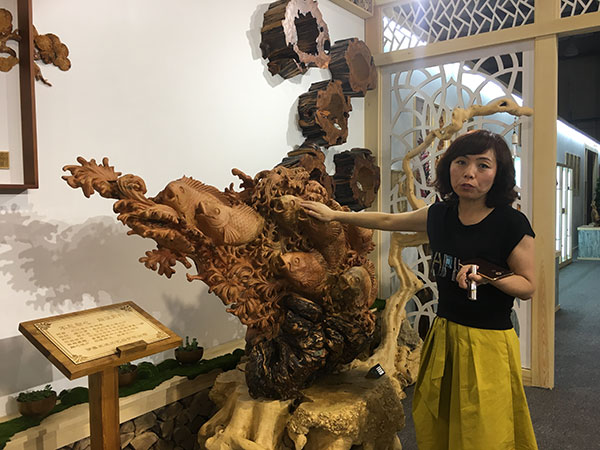 Zhang Guixia stands next to an agarwood carving made by her husband, Zhou Liyong, and his team at an exhibition hall in Yichun, Heilongjiang province. [Zheng Jinran/China Daily]
Agarwood products offer lifeline to residents of area hit by felling ban
Near the entrance of an exhibition hall in Yichun, Heilongjiang province, stands a carving depicting a caravan of seven camels walking across desert sands.
The carving, with its natural tans and dusty browns, vividly presents a common scene of the ancient Silk Road when China's merchants traded with foreign countries.
It is highly prized in Yichun, not only for its beautiful form and popularity with visitors, but also because of the material used - it is carved from agarwood, which was once treated as trash but has now become treasure.
Agarwood is a dark, resinous wood with a strong scent of resin formed in the trunks and roots of red pines after they have become infected with a type of mold. The red pines produce the resin to protect against the infection.
"After hundreds, even thousands, of years, the resin-embedded wood, or agarwood, is formed," said Zhou Liyong, who works with the material. "A flashlight beam can penetrate some parts of agarwood, like jade."
Yichun is home to vast red pine forests. In the first years of the 20th century, more than 60 percent of the world's natural red pines were scattered throughout northeastern China - half of that in the Lesser Hinggan Mountains, where Yichun is situated, according to the city government.
Red pines are listed as a rare species and under national protection, and it has been forbidden to fell them since 2004.
"Agarwood is everywhere in the red pine forests, but it was garbage that local people burnt for cooking and heating in winter, or leave buried in the forests," Zhou said.
Zhou, 49, was born into a family of carpenters, who saw business boom when felling of red pines was permitted. But the furniture and wooden handicraft business has waned due to six decades of excessive felling and the current ban.
His rich experience of wooden handicrafts drew his attention to the vast quantities of agarwood, mainly from dead trees.
"The agarwood deserves to be better utilized instead of being buried or burned," he said, adding that the resin has some medicinal value, such as detoxification and repelling insects.
Resinous woods were found under the beds of Chinese emperors during the restoration of ancient imperial palaces in Shenyang, Liaoning province, he said.
In 2009, Zhou started to collect agarwood from residents. "Some of it was being used as a construction material in pigsties," he said.
Five years later, he set up a business in an industrial zone in Cuiluan district focusing on carving agarwood, and hired many experienced sculptors from the southern regions as "they have more meticulous carving techniques", he said.
The agarwood from red pines, with its strong fragrance and excellent quality - it is less likely to crack than other woods - has become popular on the market.
"First, we assess the quality and condition of the agarwood. Then we come up with a design based on its shape, the core step. Then we carve, which may last for weeks or even months, depending on the size and design," he said.
The carving of the camels in the desert, exhibited in the hall of the district's industrial zone, took Zhou and his team more than three months, and it won praise from President Xi Jinping when he visited in May last year.
Zhou's team of about 10 experienced carvers from around the country has also developed other items such as small ornaments and household articles like tea trays, which are also well-received.
Zhao Xiaomu, a Beijing lawyer, bought one of the tea trays for more than 10,000 yuan ($1,500) in May at a trade fair in Beijing, and he brought his family to Yichun to visit Zhou's workshop in July.
"I love his designs and the material. It makes a good decoration in my house," he said, adding that he came to Zhou's workshop to observe the carving and to buy extra pieces.
Zhang Guixia, Zhou's wife, who is in charge of sales, said that she thinks the new industry based on agarwood is promising.
"It represents the culture and specialty of Yichun and the Lesser Hinggan Mountains, and is a good use of local resources," she said.
After witnessing Zhou's pioneering example, more than 200 workshops have begun to carve and sell agarwood products, with more than 200,000 pieces produced annually, according to the city government.