Chengdu plans to build tallest building in China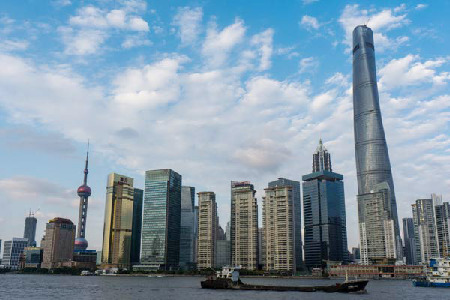 Shanghai Tower, the highest building in the picture. [Photo provided to chinadaily.com.cn]
A new skyscraper with a projected height of 677 meters will be built near the Fuzhou Road in Tianfu new district of Chengdu, in Southwest China's Sichuan province, according to a land auction notice.
The building's height needs to be approved by the country's Air Force and the civil aviation authorities, said the notice published on the website of the Chengdu Public Resource Exchange Center on Tuesday.
The total area of the land is about 299 mu (199,596 square meters) east to Fuzhou Road and west to Tongzhou Road in Tianfu new district. The auction price will start at 7.7 million yuan ($1.16 million) per mu.
If the project secures approval, the building will become the tallest in China, 45 meters taller than the current tallest 632-meter Shanghai Tower, and the second tallest in the world. The world tallest building is the Burj Khalifa Tower in Dubai, 828 meters.
Chengdu has the 468-meter Chengdu Greenland Tower under construction, which will become the tallest building in the city and in southwestern China when it is completed in 2018. The construction of the building began in 2014.