Wuhan to open livestreaming base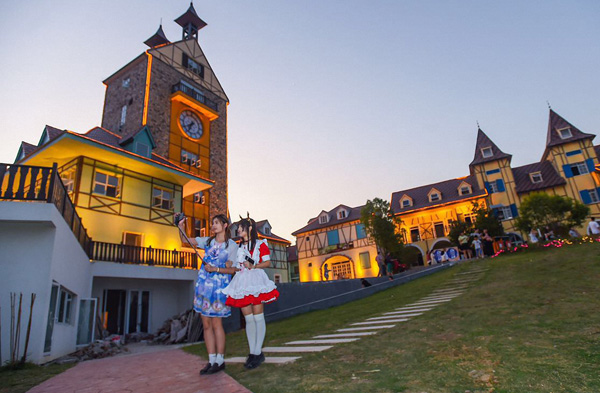 Two hosts work on a video program at Damara Village, a livestream hosting center in Wuhan, Hubei province. [Photo/Provided to China Daily]
A large livestream hosting center is expected to open in Wuhan, Hubei province, next month.
The center, Damara Village, covers about 146 hectares and has room for around 100 hosts, said Hu Huanhao, a business consultant from Wuhan Yuejinghui Investment Co, the entity behind the center.
Hu said that along with studios and accommodations, the area also features European-style architecture, such as a chapel, bell tower and wine cellar.
The center is located within a flower-themed tourist park, which opened this spring.
More than 30 livestreaming hosts have been negotiating with Damara, Hu said. "We want to promote the development of the leisure industry in this area with online broadcasting, which is a very popular among young people," Hu said.
"The broadcasting base will also provide job opportunities because more university graduates want to join the online broadcasting industry," he said.
Pu Yucong, a graduate of Tsinghua University, is a designer and a livestreaming host who has about 300,000 followers on Douyu, a popular online broadcasting platform in China.
"Livestreaming is not a job for me but a way of life - sharing with others," Pu said.
"My first online show was the graduation ceremony at Tsinghua University. The debut turned out to be a big success that was beyond my expectations," she said.
Pu plans to open a clothing shop offering her own brands in Damara Village. The shop will also be a place where she can meet her fans.
Zhang Yi contributed to this story.

Editor's picks