Saving dialects with pop culture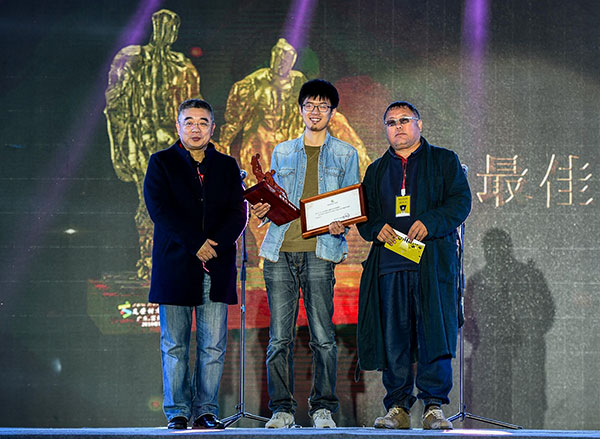 Qian Wenzhong (left), one of the founders of the Zurong Dialect Film Festival, and film director Gao Qunshu (right) pose with one of the award winners at last year's festival. [Photo/Xinhua]
Preservation campaigns have been aided by the boom in artificial intelligence
One night in late October, Zhao Yuhe found herself standing onstage at a film festival in Zhanjiang, Guangdong province, flabbergasted to have just received the best actress award. The 83-year-old told the audience that she was surprised to have won, because she is a farmer, illiterate, and cannot speak Mandarin.
While her lack of language skills and education might have resulted in trouble finding jobs or communicating with her compatriots, it was not an issue at the Zurong Dialect Film Festival, which began as one of the campaigns to preserve language diversity that are becoming increasingly popular in China.
The annual festival saw 582 films featuring various dialects submitted during this, its second year. The number of entries, many of them high quality, had doubled from last year and were sent in from all over the country.
Zhao won for her role in Mobile Phone, a film about deterring juvenile crime in Guangdong. The awards committee praised her portrayal of a left-behind senior citizen who struggles to survive.
The film features the Leizhou dialect, a subbranch of the Min language group spoken mostly by people living in Fujian and Guangdong provinces.
Among the 16 other award winners were films featuring Tibetan and Cantonese.
Although widely known as "Chinese" overseas, Mandarin - or Putonghua, which means "common language" - is not the only one spoken in China. Due to its size and demographic diversity, the country has 130 languages, 10 major dialects of Mandarin and countless minor vernaculars, according to government statistics. The Ethnologue: Languages of the World goes even further, listing China as having 299 living languages, of which 275 are indigenous.
However, like many countries, urbanization and ever-growing connectivity are causing some dialects to die out, or risk becoming extinct.
"Films, along with songs and other performing arts, are crucial in maintaining linguistic diversity and preserving cultural heritage," said Cao Zhiyun, a member of the Zurong film festival's awards committee and head of the National Language Resources Protection Project.
The State-sponsored project collaborates with 250 Chinese universities and research institutes, and has recorded nearly 100 languages spoken in China since its launch in 2015. In January, the central authorities issued a directive, stressing the importance of preserving dialects and local cultures.
Cao, a linguist specializing in Mandarin and its dialects, and also vice-president of Beijing Language and Culture University, said dialect preservation is no longer solely a government endeavor. It has also gained wide public support in recent years.
Grade schools and kindergartens in many parts of the country have introduced the teaching of some subjects in local dialects. The number of talk shows and documentaries promoting dialects is steadily rising as well.
Preservation campaigns have also been aided by the recent boom in artificial intelligence technology.
IFlytek, a leading language input software provider with a particular strength in voice recognition, launched its own dialect protection project recently, inviting users to visit its mobile app and read from a selection of set texts in their mother tongue.
About 666,000 people participated in the first week alone.
Contributors are ranked by the number of text recordings they have contributed. The person who tops the list on Dec 7 will win an iPhone X, the company said.
Users can also leave a short personalized recording of their voice, which can be accessed via the app's "search for a dialect" section. The section has a "like" feature to encourage social media-like enthusiasm for dialects.
"After collecting voice samples, we want to use technology to study the dialects and boost their use among the younger generations," said Wu Junhua, from iFlytek.
He said that, after Mandarin, the company's voice recognition system performs best in Cantonese, the primary dialect in Guangdong and also widely used in Hong Kong. The system can understand 80 percent of the Cantonese spoken by its users. Tibetan and Uygur are two other languages it handles well.
The system can recognize 21 languages and dialects, Wu said.
In China, the market for dialect-related cultural products and services remains huge.
Talkmate, a Chinese online education startup, offers courses in various dialects as part of the company's partnership with the UNESCO Atlas of the World's Languages in Danger project, which lists 144 languages in China as ranging from "vulnerable" to "extinct".
"Even if one day there are no native speakers of a certain dialect, people can still learn and revitalize it with the help of various apps like this," Cao, the linguist, said. "This is quite an innovative way to preserve languages."
Xinhua

Editor's picks