Foreign families achieve their Chinese dream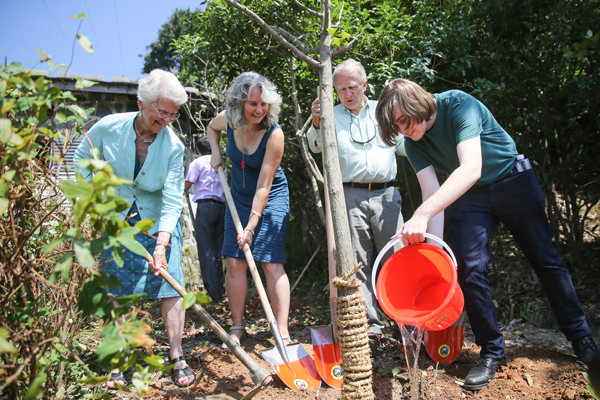 Karyl Condit, granddaughter of J. Bruce and Isabelle Eyestone, an American couple who went to China in early 1900s and founded a middle school in Fujian province, visited Guling with her husband and daughter last week. Hu Meidong/China Daily
Honored guests visit county where their ancestors once lived
When Mark Becker climbed a mountain in Fuzhou in the eastern province of Fujian with his aunt and wife last week, he praised efforts of President Xi Jinping that helped his family fulfill their dream of visiting the place where their ancestors lived and sometimes fought.
In the early 1900s, Becker's great-grandfather, Harry Caldwell, arrived in Guling (previously known in the West as Kuliang), a mountainous county in Fuzhou. He spent about 40 years doing missionary work there and improving the county's educational facilities before returning to the United States during World War II.
"My grandfather's first language was really Chinese. He only spoke English until he was 3 or 4 because all his friends were Chinese children," said Becker, one of 19 people from seven families the Fuzhou government invited to visit their ancestors' old home.
Missionaries first arrived in Guling in 1886. Later, the county attracted diplomats and merchants who wanted to avoid the summer heat in Fuzhou, one of five Chinese treaty ports opened in the wake of the First Opium War (1839-42).
Becker also expressed gratitude for the efforts Xi made 25 years ago to help a widow visit Guling. "I don't think we'd be here if he hadn't done that. We've all dreamed of coming here for years. We all grew up with the same stories. So for him to help us come was a wonderful thing to do," he said.
In 1992, when Xi was Party secretary of Fuzhou, he read a story in People's Daily about Elizabeth Johnson Gardner, who wanted to honor her late husband's wish to revisit his childhood home by traveling to Guling herself.
In February 2012, when Xi, who was then vice-president, visited the US, he told the story of how he helped to fulfill her Guling dream.
Milton Gardner (1901-86), a professor of physics at the University of California, lived in Guling for the first nine years of his life, until 1911. He repeatedly muttered "Kuliang, Kuliang" in the final hours of his life, according to his family.
Xi said that after reading the touching but sad story, he immediately had government officials contact Gardner and invite her to visit Guling. Four months later, Gardner completed her trip to the county.
"Mrs. Gardner was so excited that she had finally fulfilled her husband's last wish. She said she would cherish this bond of friendship between her husband and the people of China, because after seeing for herself the beauty of Guling and the warmth of the Chinese people, she understood why her husband had been so deeply attached to the country," Xi said later.

Editor's picks