World's top cycling race lands in China in October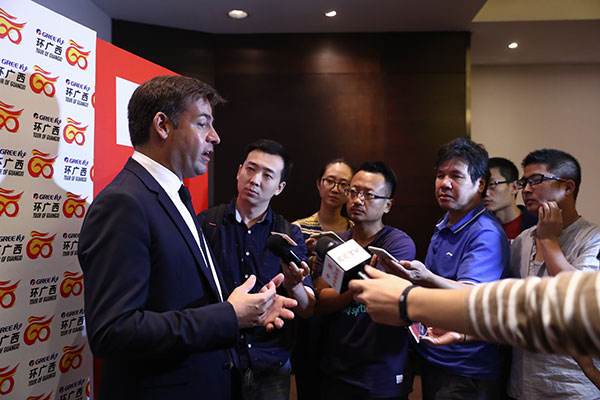 John Lelangue, senior advisor of UCI, speaks with media on Friday. [Photo provided to chinadaily.com.cn]
A total of 18 professional cycling teams have confirmed their attendance at the "Gree World Cycling Tour of Guangxi", the final stop of the World Cycling Tour, and also the only stop in Asia, the organizer said on Friday.
There are 37 stops in the World Cycling Tour, with most of them in Europe, including the Tour de France. Tour de France is famous because all the 18 teams participate in the race every year.
Wanda Group signed a deal with UCI last year to introduce this top-level cycling race into China. And Wanda Sports also signed a strategic cooperation agreement with Gree Group, making Gree the title sponsor of the "Gree World Road Cycling Tour of Guangxi" for five consecutive years.
The six-day race, from October 19-24, will start from Beihai, passing Qinzhou, Nanning, Liuzhou and eventually ending in Guilin. The total length of the route is about 1,000 kilometers, running through Guangxi from the south to the north, crossing plains, hills and mountains, the Beibu Gulf area, the rivers and mountains around the Lijiang River, the capital city of the autonomous region, Nanning, and the historical site of Liuzhou. It will showcase the spectacular natural scenes, historical culture and ethnic customs of Guangxi.
The cycling races have a history of more than 100 years, including the road race, track race, mountain race and BMX city race. Among them, the most influential is the road cycling race. The UCI World Tour is the most important and the highest-level road cycling race.
"The scale and level of the Guangxi race will rival other world's top road cycling races," said John Lelangue, senior advisor of UCI. "The race is just a beginning, and there will be more Chinese cyclists joining the competition in the coming years."
Yang Dongwei, vice-president of Wanda Sports, said he hoped the Guangxi race can fuel the development of cycling race in China, and especially attract young Chinese.