Harbin stylist outfitting Chinese with dreadlocks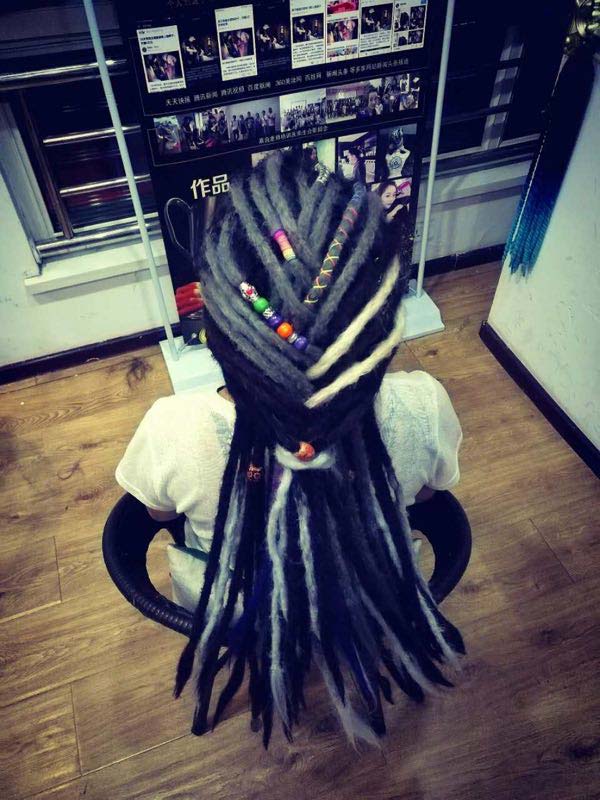 Dreadlocks created by Du Jialiang, 28, a stylist in Harbin, Heilongjiang province. [Photo provided to chinadaily.com.cn]
On Wednesday morning, Du Jialiang received his 15th customer this month in his 40-square meter studio in Harbin, the capital of Northeast China's Heilongjiang province.
Six hours later, the originally short-haired boy left with a mop of dreadlocks.
"Dreadlocks are ropelike strands of hair formed by matting or braiding hair," said the 28-year-old stylist. "In China, people usually call dreadlocks zangbian in Mandarin, which means 'dirty braids' because they think they can't be washed and must be quite dirty."
Although dreadlocks have become more popular this summer due to a hot TV show about hip-hop, The Rap of China, Du still feels distressed that there are few people who really understand the history and culture of dreadlocks.
"The earliest dreadlocks were created by the Africans to prevent their hair from the scorching heat and some injurious insects' harassment," Du said.
"Dreadlocks have been worn for various reasons in different cultures: as an expression of deep religious or spiritual convictions, for ethnic pride, as a political statement and in more modern times as a representation of a free, alternative or natural spirit."
Every time Du makes dreadlocks for his customers, he will talk about the style's history and culture with them.
Du, born in a small village in Yabuli, a town 200 kilometers far from the central Harbin, left his hometown when he was 18 years old. After studying, he became a hairstylist in Weihai, Shandong province.
"As a hairstylist, I like to collect various materials about hairdressing," Du said. "At the end of 2015, I happened upon a video about making dreadlocks on the internet."
He was attracted by the fashion hair style and became obsessed with it. Then he decided to quit and begin a new job as a dreadlocks stylist in Harbin.
After studying and several months' repeated practice, he welcomed his first customer in the beginning of 2016.
"Now I have had lots of regular customers and also receive orders all over the country, such as Shandong, Hebei, Henan and Tianjin," he said. "Every month, I receive at least 20 customers, including college students, teachers and white collar workers."
Due to the features of Chinese people's hair, dreadlocks stylists usually choose synthetic dreadlocks that make the hair look as real as possible.
Du was too busy to make the synthetic dreadlocks all by himself, so he took the raw material to his hometown and taught the villagers how to do it.
"I will pay for their handiwork, which can compensate their living expenses, especially for those who need help," he said.