Games offer an escape from stress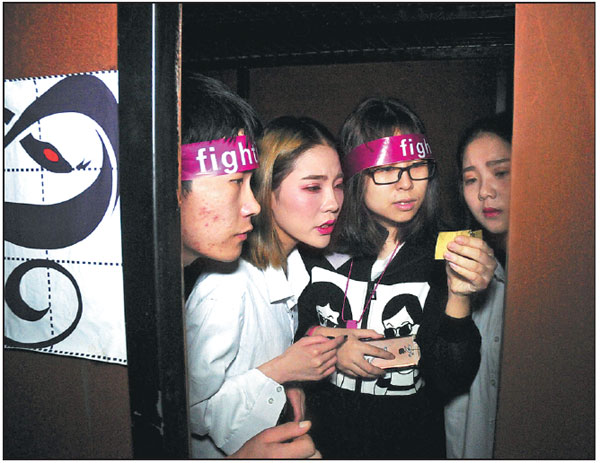 Room escape games are considered a good substitute for conventional team-building activities.Photos By Yi Peng / For China Daily
Puzzles provide a new way for urbanites to party and an alternative team-building activity
A few weeks ago, Yuan Chaojun quit his well-paid job with a trading company in Shanghai and started teaching people how to "escape from rooms".
Room escape is a real-life adventure game, during which "imprisoned" players are required to escape from "dungeons", "prisons" and mysterious cells by solving puzzles and connecting clues in a fixed period of time.
The venue where Yuan works is in downtown Shanghai, and his job is to explain the plot of the game to players before the game begins, warn them of possible dangers, and help the gamers if they find it difficult to "escape". After the game, he is also responsible for putting all the equipment back where it belongs.
"Room escape is exciting because it allows people to play different roles and experience another life for a short time," said Yuan, 29. "Although time is limited, it is a good way to release stress from work and school."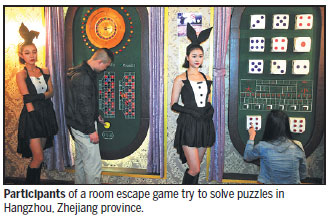 Room escape is said to have originated in Silicon Valley in 2006, inspired by the novels of Agatha Christie. Mixed with excitement, challenges and fear of the unknown, the game has become popular in China.
In Shanghai alone, more than 200 locations offer these adventures. Across the country thousands of such escape rooms with various themes have sprung up.
Room escape attracts people from all walks of life. Yang Shuyu is among them. He previously worked for an online gaming company, but he switched to creating room escape games at Magic Cube in 2013.
"The industry is essentially about gaming, which I love, but it is utterly different from online games," he said.
Four years later, his Magic Cube has shot to fame in Shanghai, and now Yang and his wife operate five venues across Shanghai, Hangzhou and Nanjing, plus three franchises, including one in London. Each venue has a different theme, and two won awards this year for originality.
Stress relief is one of the major reasons why these games are so popular, Yang said.
"Tired, stressed-out Chinese urbanites, particularly young people, want to meet friends, chat and find some interesting activities," he said.
"That's why room escape has become a new way of partying, following karaoke, video games and board games."
Room escape games often require group thinking, making it a good alternative for company team-building activities.
Ye Kai works for a film production company. He and colleagues recently took on a room escape game called "Assassin", and only made it out "with the help of everyone".
"The game gave me a strong sense of involvement and teamwork," Ye said. "I will definitely come back and try other themes."
But escape games are not without their critics, especially as they expand into residential districts.
According to a Labor Daily report, a venue opened in a basement in a residential area in Shanghai's Jingan district recently, attracting a large number of devotees to the area. As the door to the community is now constantly open, some residents have been left irritated.
"How can our safety be guaranteed if they allow these random strangers into our community freely?" one resident was quoted as saying.
The game developer apologized for the inconvenience after the newspaper broke the story last week.
"We are thinking about employing security guards at the entrance to check on our customers," the developer said. "We want people to have fun. It was never our intention to disturb the neighborhood."
Xinhua