National Games reach out to the public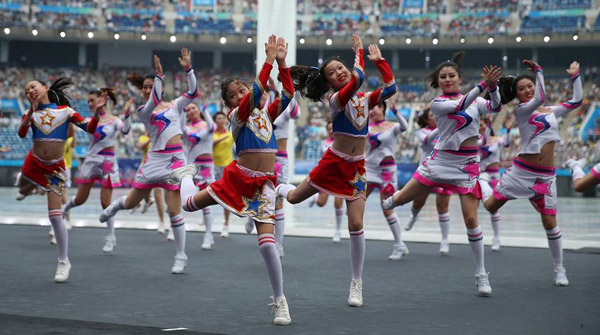 Girls clap their hands during a performance before the opening ceremony of the 13th National Games in Tianjin, Aug 27, 2017. [Photo/Xinhua]
An important highlight of the 13th National Games is to make the traditionally elite-only event more accessible to the general public, said Liu Guoyong, the head of mass sports of the General Administration of Sport, the country's top sport body.
Liu said more than 10 million people from across the country have taken part in the preliminary rounds of the 17 sports for amateur enthusiasts that have concluded, and more than 7,000 grassroots players have qualified in the finals being held in Tianjin from Sunday to Sept 8.
The 13th edition of the quadrennial multi-sport event for the first time is allowing grassroots enthusiasts to play in a total of 19 sports, including popular ones, such as table tennis and badminton, as well as emerging sports, such as rock climbing. Square dancing, a physical exercise widely popular among the middle aged and senior citizens, also is included as a mass event.
Among the grassroots players who ranked in the top 8 in their respective competitions, the oldest is Huang Rui, a 69-year-old who took part in chess, Liu said. The youngest is Guan Xinyue, an 8-year-old draughts player.
The amateur players also are from diverse backgrounds, including people from 21 ethnic minority groups, more than 600 students and some 180 farmers and fishermen.
In another major reform of the Games, the gold and medal standings are scrapped, which aims to curb the "gold mania" of local sports authorities, said Liu Xiaonong, the head of athletic sports of the General Administration of Sport.
The 13th National Games are being held in Tianjin from Sunday to Sept 8. More than 20,000 athletes, professional or amateur, will compete.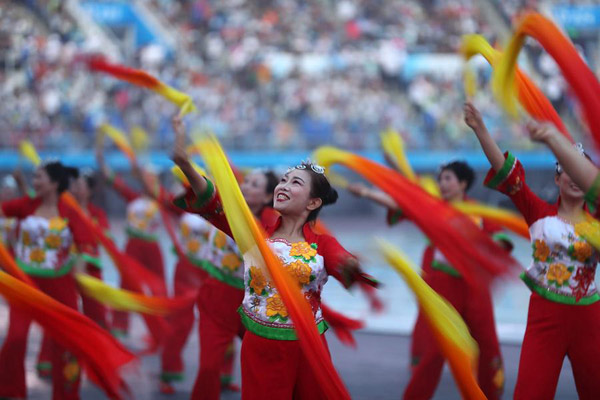 Dancers wave colorful scarves during a performance before the opening ceremony of the 13th National Games held in Tianjin, Aug 27, 2017. [Photo/Xinhua]