Students failing to learn debt-control lessons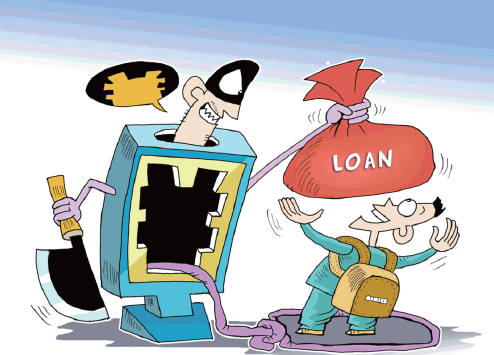 In the past three years, the media has highlighted many stories about college students who have fallen into debt as a result of using peer-to-peer lending platforms. These platforms, many of which are unauthorized and unregulated, are usually based on the internet and have no connection with the established banking system. Many charge exorbitant rates of interest.
In some cases, lives have been damaged and some students have been pushed to commit criminal acts as they seek to repay their debts.
In some cases the results have been more serious and even life-threatening. In April, a sophomore in Xiamen, Fujian province, killed herself because she was unable to repay 570,000 yuan ($85,448) she had obtained via a peer-to-peer lender, according to reports in Fujian Daily.
Earlier this year, the Inner Mongolia Morning Post reported that about 900 university students in the autonomous region were cheated out of more than 9 million yuan after they signed up for a "promotion" that purported to offer iPhones for 800 yuan, rather than the usual price of about 2,000 yuan. In fact, they had unwittingly applied for loans from a peer-to-peer platform and were quickly pressured to repay the money at high rates of interest.
Now, experts are calling for the sector to be more strictly regulated to prevent abuse.
"Peer-to-peer lending has become a hot topic among college students, but it has turned out to be a social issue, not just a simple financial problem," said Feng Lirong, a prosecutor at the Dongcheng district people's procuratorate in Beijing.
"The market needs urgent regulation because some loans have put students in danger and even led some to commit crimes."
Gangs and fraud
Although there are no nationwide statistics related to criminal incidents linked to peer-to-peer lending, a number of provinces and regions have released data that illustrate the gravity of the situation.
In May, police in Jilin province said they had handled 193 cases related to the issue, busted three gangs and detained 31 people suspected of using the system to defraud would-be recipients.
In one case, a number of suspects are alleged to have defrauded about 100 students at seven colleges of more than 4 million yuan, according to the Public Security Bureau in Changchun, the capital of Jilin. The men urged the students, who were seeking part-time work, to register with an "employment agency" that was actually a peer-to-peer lending platform. The students quickly came under pressure to meet the monthly repayments.
In July, Nanfang Daily interviewed a female student who told how she was pushed to provide nude photos of herself as security for a loan of 3,000 yuan.

Editor's picks