Trauma of bacteria attack still felt today
Editor's note: During World War II, the Japanese army spread deadly bacteria in China, killing a lot of civilians and leaving many with diseases for the rest of their life.
More than 15,000 people in Changde, Central China's Hunan province, were killed by plague bacterium spread by the Japanese army in 1941, according to a report of Beijing Youth Daily.
In Lishui and Yiwu, East China's Zhejiang province, Japanese troops spread plague, typhoid and anthrax bacterium, causing what is known as "rotten leg disease" among locals.
Many victims did not realize the cause of their problems until recent years.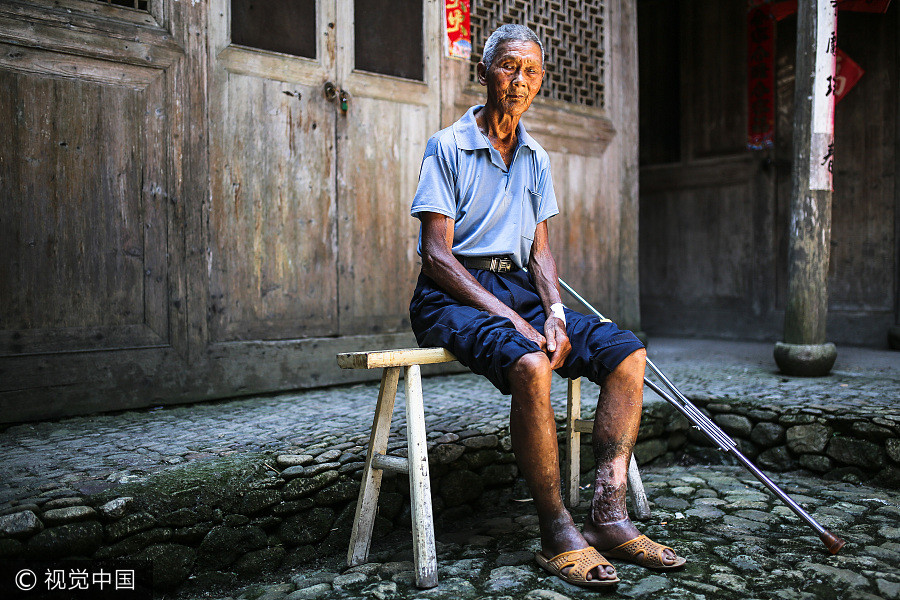 Fu Junhua, 86, is one of the "rotten-leggers" in Lishui, East China's Zhejiang province. Victims of the germ attack suffered rotten legs and feet. Due to ulcers on his legs and feet, he did not wear socks for more than 70 years until his disease were cured in 2014. [Photo by Pu Xiaoxu/Beijing Youth Daily via VCG]