Xi offers condolences to Spain
He sends letter denouncing terror after two deadly vehicle attacks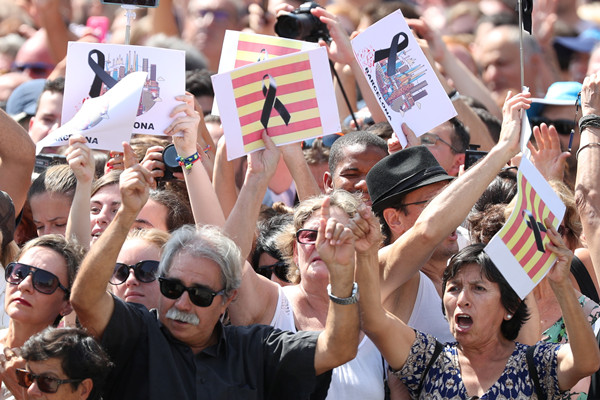 People observe a minute of silence at Plaza de Cataluna in Barcelona on Friday, the day after a van plowed into pedestrians on the city's popular Las Ramblas boulevard, killing at least 13 people and injuring more than 100. SERGIO PEREZ/REUTERS
President Xi Jinping has written to King Felipe of Spain to express his condolences over the terror attacks in Barcelona and Cambrils that killed at least 14 people on Thursday and Friday.
In his letter, Xi mourned the dead and expressed sympathy on behalf of China to the bereaved families and the injured.
"China is firmly opposed to all forms of terrorism and stands ready to work with the international community, including Spain, to strengthen anti-terror cooperation so as to jointly safeguard regional and world peace and stability," he wrote.
Spanish police said after the attacks that they had identified a cell of jihadists operating in the northern Spanish region of Catalonia.
The most serious incident occurred in Barcelona on Thursday when a man drove a van 500 meters down the city's most famous boulevard, Las Ramblas, killing at least 13 people and injuring more than 130.
The street was full of tourists, and the victims were from around the world. Three of the injured were Chinese; two from Taiwan were being treated at a hospital, while one from Hong Kong received minor injuries.
Premier Li Keqiang expressed condolences on Friday to Spanish Prime Minister Mariano Rajoy over the attacks.
Unlike in London, where posts have been placed between popular pedestrian areas and roads following two vehicle attacks, there was nothing to prevent the attacker from driving freely down the wide pedestrian zone, veering to the left and right in search of victims.
Police arrested two people but were still searching for the driver, identified by authorities as Moussa Oukabir, an 18-yearold Moroccan. Police arrested his brother, Driss Oukabir, 28, who they said had rented the van, in Ripoll near the border with France. Oukabir told police he had not rented the van and that his identity papers had been stolen.
Early Friday, a car was driven into a crowd in the coastal town of Cambrils, killing one person. The driver and four passengers were shot dead by police. Five bystanders and one police officer were injured. Police said the men were wearing fake bomb vests.
The Islamic State group in Iraq and Syria, the inspiration for recent vehicle attacks in London, Stockholm, Berlin and Nice, claimed responsibility for the attacks but did not give any information connecting the individuals involved in the attacks to the group.

Editor's picks