Tea package dispute ends in a legal draw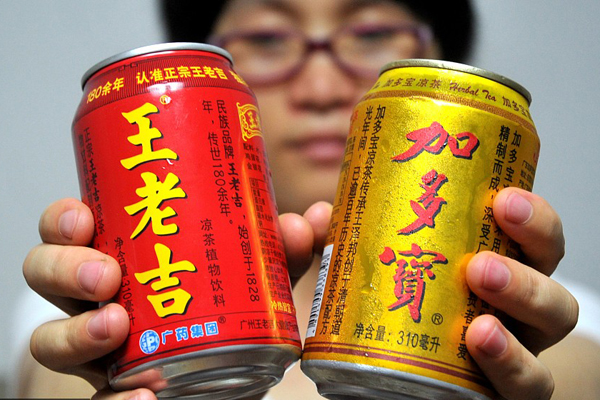 A man shows the packaging of Jiaduobao and Wong Lo Kat, two herbal tea brands. [Photo/VCG]
China's top court has ruled that the two leading brands of herbal tea may both use the exact same packaging, as long as they do not harm each other's interests.
The makers of Jiaduobao and Wong Lo Kat have been locked in a five-year legal battle over the right to a trademark design: a red can with distinctive yellow lettering.
On Wednesday, the Supreme People's Court effectively declared it a draw, stating that both JDB (China) Drink Co and Guangzhou Pharmaceutical Holdings "had made contributions to promoting the packaging and related products".
The court did not elaborate on what would constitute one company harming the other's interest. Both said they would respect the ruling and continue to sell Chinese herbal tea.
The verdict comes after JDB appealed a 2014 ruling by the Guangdong High People's Court banning it from using the design on its Jiaduobao products. The company was also ordered to pay 150 million yuan ($22.4 million) in damages and over 260,000 yuan in legal costs.
The conflicts date to 1995, when Guangzhou Pharmaceutical leased the Wong Lo Kat trademark for 10 years to JDB, a subsidiary of Hong Kong-based JDB Group.
The company secured an extension until 2020 from a former vice-chairman of Guangzhou Pharmaceutical, Li Yimin, who was later convicted of taking bribes from JDB.
The mainland company filed a complaint with the China International Economic and Trade Arbitration Commission to void the agreement. The commission ruled in May 2012 that the lease to 2020 was invalid, and it ordered JDB to stop using the trademark.
So JDB began using a similar red can using the Jiaduobao name. Guangzhou Pharmaceutical uses identical red cans labeled Wong Lo Kat.
Guangzhou Pharmaceutical, which claims a 70 percent market share, sued in 2012, claiming JDB's red can infringed on its intellectual property. JDB claimed to have created the look, and argued the design should be independent from the trademark.
Zhang Ping, a professor at Peking University, said the final rule will benefit China's herbal tea industry. But Li Mingde, director of the intellectual property center at the Chinese Academy of Social Sciences, said the verdict needs more explanation, "or else it is not practical to be enforced".
Qiu Quanlin in Guangzhou contributed to the story.