Cashless trend takes hold in China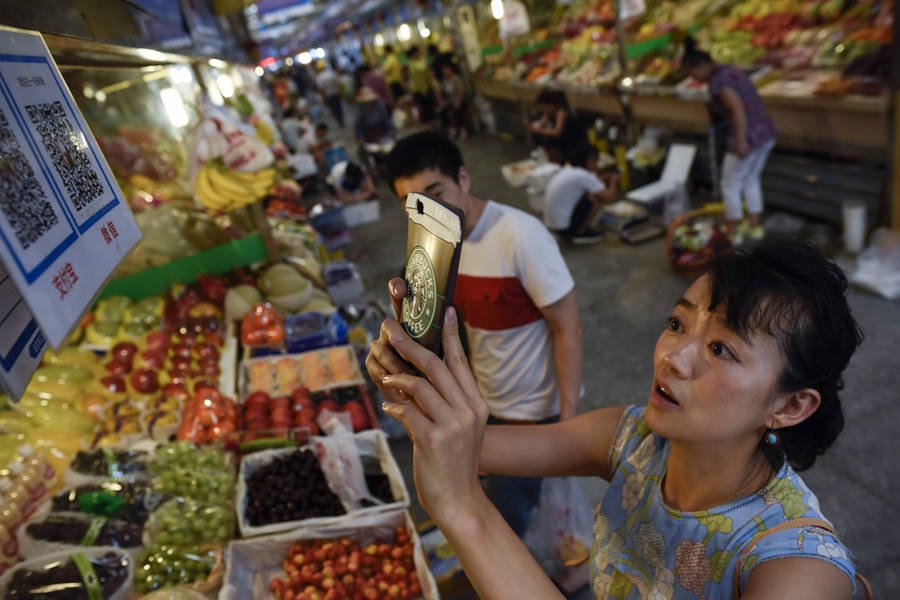 This photo taken on June 27, 2017 shows a woman making purchases by scanning QR codes using her smartphone at a fruit stall in a market in Beijing. China's lack of "credit card culture" has somewhat fueled the popularization of mobile payments, especially in small cities and underdeveloped areas. WANG ZHAO/AGENCE FRANCE-PRESSE
Payment platforms run promotions to boost volumes WeChat and Alipay, two major online payment platforms in China, call for consumers to go cashless and cardless in their daily life through promotions in August. Cashlessness is a new Chinese characteristic. In a recent report by Tencent, the Chongyang Institute for Financial Studies at Renmin University of China, and French market research firm Ipsos, 84 percent of Chinese were "comfortable" going out with only mobile phones, no cash.
Gao Jingwen, in her 20s, can hardly recall when she last paid in cash.
"I do not need cash in a restaurant, seeing a doctor, paying electricity and water bills. I cannot think of any place I cannot pay with my smartphone," she says.
Zhang Shucui, 67, always used to take a large amount of change when going to the wet market near her home in Beijing's Haidian District, but that time has gone.
"The QR code replaced the change basket in front of the stalls," she said. "Gone are the days when I had to search all my pockets for a coin."
Monday's report also showed more than 70 percent of the 6,500-plus respondents saying they could live more than a week with only 100 yuan ($15) in cash, and 52 percent only use cash for 20 percent of their total monthly consumption.
Mei Houdui, an electronic products dealer in Shenzhen, shared a recent "awkward" experience-he wanted to borrow some cash as pocket money for his child at a party, and failed as no one had any cash in their pockets.
A big cake
The new payment pattern has won over Chinese consumers with its convenience and flexibility, squeezing the market share of card and cash payments.
Alipay or WeChat? This is the most often question posed up when a purchase is made in China. Cards and cash, the once dominant purchasing methods, have become a second option in less than half a decade.
"Mobile payment companies were worried about their future just four years ago, but the spread of technology has exceeded the imagination of almost everyone," says Li Gang, a professor at the Tencent Research Institute.
Data from the People's Bank of China showed a total of 157 trillion yuan of payments were made on mobile devices in China last year, more than 200 times that in the United States in the same period. The figure is expected to continue expanding by 50 percent each year, it said.