'Pulley bridge judges' bring justice to remote village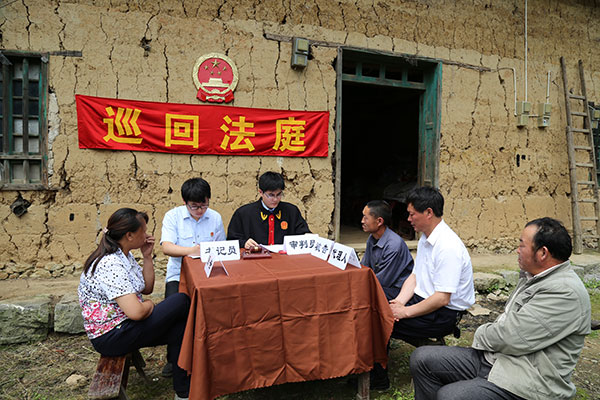 Cheng Zhengqing (center) hears a divorce case in Huilong village in Fengjie county, Chongqing.[Photo provided to China Daily]
Chongqing judge Cheng Zhengqing recalls clearly the first time he mediated a case in Huilong village-mainly because it required a terrifying journey on a 50-meter wire pulley bridge over a fast-flowing river.
"My feet were quivering, and my hands were drenched with sweat," he said of the experience in an interview with Chongqing Evening News. "I didn't dare look down.
"I just kept imagining the worst-case scenario, that the rope would break and I'd fall into the river."
The pulley bridge across Jiupan River was built in 2005 and is the only way to access Huilong, a community of only a few households in Fengjie county. The remote area is covered in steep karst mountains and deep valleys.
Judges with the county court regularly use the bridge in order to hold circuit court hearings or to mediate disputes in the village. Each time, they need to cross the expanse carrying the 50-centimeter-tall national emblem of China to hang in the court.
Cheng, 36, who started working at the court in 2007, said he quickly overcame his fear of heights, as he and his colleagues believe bringing legal proceedings to isolated parts of the county is vital to people's understanding of the justice system.
Their dedication has even earned them the local nickname of "pulley bridge judges".
Chongqing Evening News reported that Cheng and his colleagues have handled more than 3,000 cases in the Huilong circuit court over the past three years. Some 1,600 were concluded, 70 percent of which were withdrawn after mediation.
Almost every plaintiff and defendant who lost a case chose not to appeal the verdict over that period, while the higher court did not require even one case to be retried due to a lack of evidence or a procedural mistake, according to the report.
Cheng said although most cases were trivial disputes between relatives or neighbors, his work can make a real difference.
"Only by visiting homes and mediating in disputes can we ensure people see that justice is done and win their understanding and support," he said.
"Sometimes I feel a little jealous when I hear about a colleague at a higher court who is handling a more important or complicated case," Cheng added. "But when people say hello to me during my evening stroll-even those who have lost a case I worked on-that makes me feel that my choice to work at this level was the right one."
Li Lei contributed to this story.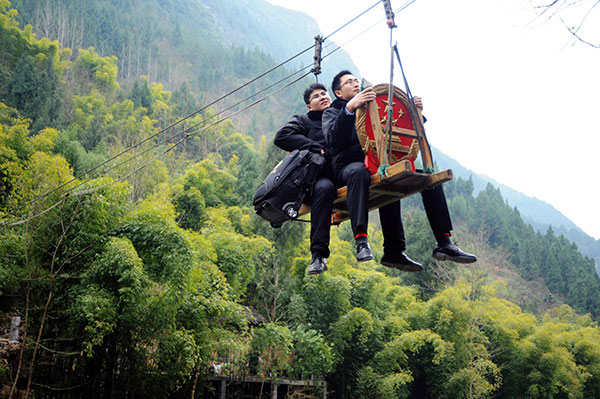 Cheng (left) and his colleague travel on the pulley bridge to Huilong.[Photo provided to China Daily]