Shared economy branches out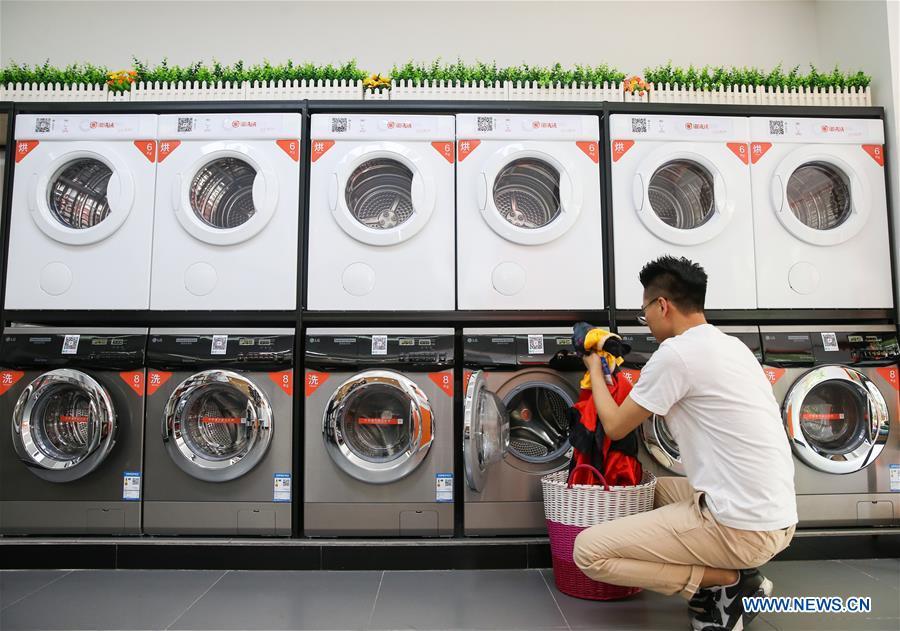 Photo taken on May 24, 2017 shows a student using shared washing machine in a university in Shanghai. [Photo/Xinhua]
Pay services aid trend
The success of the sharing economy in China is perhaps unsurprising when you consider Chinese consumer's embrace of mobile payment services such as Alibaba Group Holding Ltd's Alipay and Tencent Holdings Ltd's WeChat Wallet and their rapidly changing consumption habits.
"With an increase of average income, more Chinese will prefer to purchase premium products and services, which has created niche market for providers. Meanwhile, the accumulation of fortune and abundant materials enables the trend to share resources, such as ride-hailing resources and accommodations services," said Chen Ke, partner and vice president of Roland Berger Greater China.
Chen added that in China, the sharing economy not only reduces the waste of idle resources, it also employs new technologies to transform traditional businesses, such as bike rental and shared umbrellas.
"The expanded meaning of sharing economy in China helps companies build a strength amid fierce competition and helps more consumers to better access the needed services," Chen said.
While a large number of mobile-savvy Chinese become obsessed in the products and services enabled by the sharing economy, some critics question whether the mode is sustainable. Or, whether all products can be shareable?
According to the Shanghai-based ThePaper.cn, the investor of a shared-umbrella enterprise claimed that of the nearly 300,000 umbrellas their company deployed in more than 10 cities in southeast China, one can hardly be found.
"Yes, I've noticed media reports about the great amount of missing shared umbrellas in cities including Shanghai. It's possible for people to take the umbrellas home instead of returning, but I would like to regard the activity as free promotion of our project because the umbrellas are printed with our logo and information," said Lu Hang, who had placed 20,000 umbrellas in Shanghai's downtown areas.
Lu, 29, said he had long been encouraged by the success and popularity of the shared economy, and a month ago he finally decided to launch his shared umbrellas project in Shanghai. He said he is optimistic about breaking even in the foreseeable future.