Post-quake reconstruction efforts aim to beat winter deadline
By CUI JIA and MAO WEIHUA in Tashkurgan, Kashar prefecture, Xinjiang | China Daily | 2017-07-14 06:54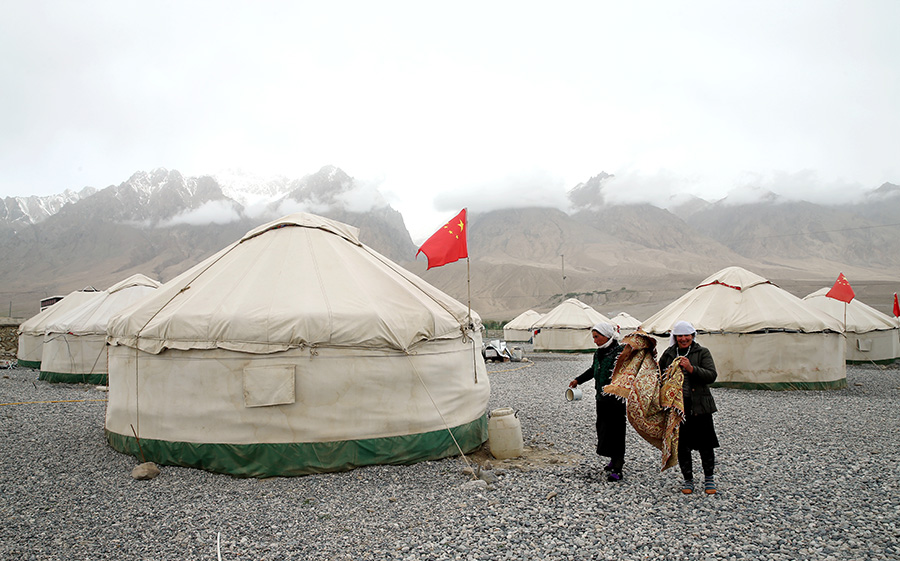 Two women carry a traditional embroidered Tajik quilt at the temporary settlement in Quzgun. ZOU HONG/CHINA DAILY
'A special therapist'
The kindergarten has recently welcomed a "special therapist", said Azmugul, pointing at a dog with thick brown fur who was sitting at the entrance of a tent while children played inside.
The dog belongs to the family of Zandik Magulik. Every morning he accompanies the 5-year-old student to the kindergarten and then waits quietly outside the tent until the afternoon, when Zandik returns to his temporary home, according to Alimjan, who has been surprised by the dog's behavior.
"The children love to pat and even ride him during breaks, and he just lets them," she said. "It's as though he wants to do something to comfort them. He's a very good therapist," she said.
In addition to tents, the local government has also set up a number of yurts in the temporary settlements. Tajiks are familiar with the circular structures because they live in them when they move to their summer pastures in the mountains to herd sheep and yaks.
Baygenmu is eager to move into her new house, and she has already started embroidering more quilts to decorate the family's new home.
"I will still build a stone wall, though. Some habits are hard to change," she said.