Post-quake reconstruction efforts aim to beat winter deadline
By CUI JIA and MAO WEIHUA in Tashkurgan, Kashar prefecture, Xinjiang | China Daily | 2017-07-14 06:54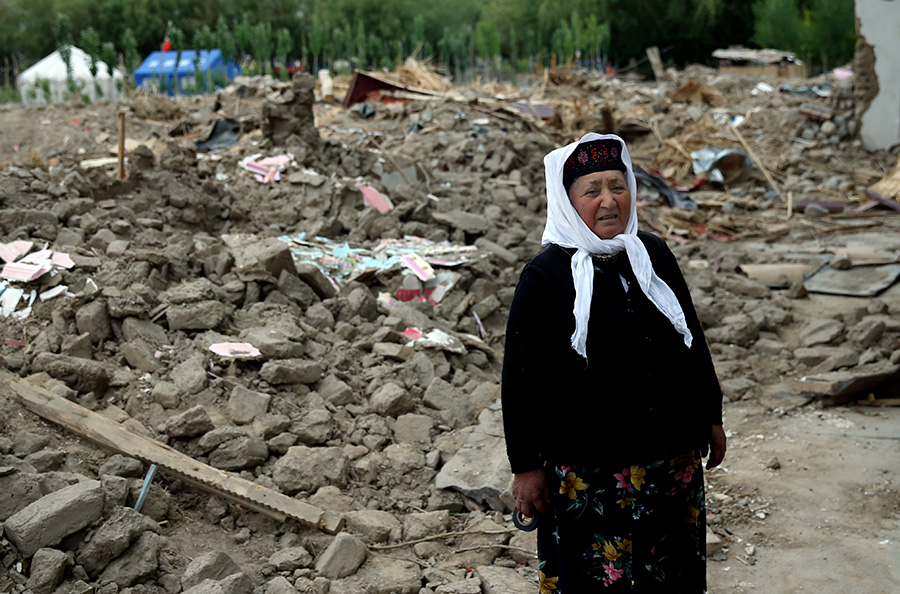 Baygenmu Hanjar takes a break from searching through the rubble of her house in Waerxidie village, Tashkurgan. ZOU HONG/CHINA DAILY
Seismic fracture
Although Baygenmu wanted her new house to be built in the same place as her old one, the local government has chosen to relocate Waerxidie to ensure the villagers' safety. What is left of the old village now sits on a seismic fracture created by the earthquake.
"The damage caused by the quake was quite severe because of the new fracture line, which resulted in the collapse of the old stone houses which had no earthquake-proof features," said Hu, from the seismological bureau.
The biggest reconstruction project is being undertaken in Quzgun village, the epicenter of the earthquake. All the casualties were residents of Quzgun, 15 km from Tashkurgan, the county seat. Now, about 220 households need new, safer homes.
The local kindergarten is one of the few buildings still standing, despite the large cracks in its walls. A 6-year-old boy who attended the kindergarten was killed in the quake.
"Alimjan was found buried under a wall that collapsed on him as he slept. There was a large section across his back," said Azmugul Abdulayim, one of the teachers.
The kindergarten reopened the day after the quake in two tents situated in a temporary settlement for Quzgun residents. The teachers brought the children's favorite slide from the damaged kindergarten.
"The smiles and laughter of our 20 children definitely lifted the spirits of many people who were still in shock, including me," Azmugul said.
At first, she and other teachers didn't want to break the bad news to the other children, but many asked why Alimjan wasn't with them anymore.
"We decided to tell them that Alimjan has become a star in the sky and he will look out for them from above," Azmugul said, her voice trembling with emotion.