Students set to flock to an academic home from home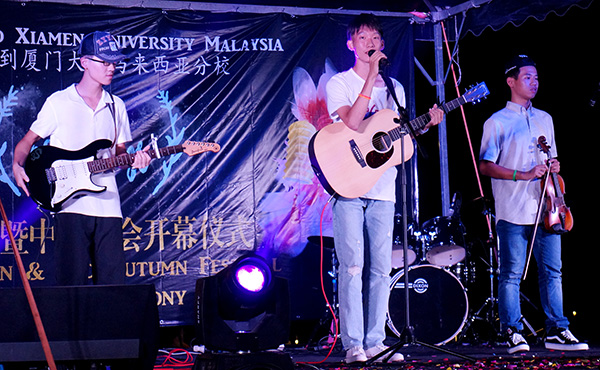 A student band performs during an event on campus. PROVIDED TO CHINA DAILY
Half the battle
The campus has developed at a rapid pace since construction began in July 2014. The first phase, covering 260,000 sqm, is now operational, and is home to nearly 2,000 students. The Class of 2017, including 500 students from China, will enroll in September.
Zhang Jianlin, assistant president of Xiamen University, who has been working to facilitate the construction of the new campus since 2012, said XMUM has benefitted greatly from the support of the Chinese and Malaysian governments, as well as businesses and philanthropists in the two countries.
The second phase of construction began recently. By 2020, XMUM is expected to have at least 5,000 students, but the number will eventually reach a maximum of 10,000.
Most of the students will come from China, Malaysia, and other members of the Association of Southeast Asian Nations.
"As pioneers in setting up and running a campus overseas, we hope to build it as a model that other Chinese universities with similar plans will be able to follow," said Zhang, who is also a professor of construction engineering at Xiamen University." We would like to share our experiences, the ups and downs we have experienced in recent years."
Zhu, president of Xiamen University, said such an undertaking is never easy because of barriers, challenges and even risks.
"You have to obey the laws and regulations of the other country, and understand, respect and adapt to the culture and the education system. Moreover, as construction funds are mainly raised via bank loans, the risks involved in raising funds and repaying loans should also be fully considered," he said.
Zhang Ying, who has been dealing with administrative and teaching affairs on the campus since April last year, has experience of the potential pitfalls.
"A very simple example in terms of cultural differences is that more than half of Malaysia's population is Muslim, and they need to pray five times a day. Xiamen University Malaysia has to follow other universities in the country and set up prayer rooms for staff and students," she said.
"Details like these can pass unnoticed meaning relevant measures are only taken after arriving in the country."
The recruitment of faculty members is also challenging, according to Zhang Ying. To offer top-quality education, the campus needs more high-quality teaching staff, but salaries in Malaysia aren't yet competitive enough to attract large numbers of qualified candidates, especially from developed countries.
However, Haw, the Malaysian assistant professor who has worked at the campus since it opened, said he has witnessed the administrators' efforts to win greater recognition from local students and staff, and he has been impressed by the rapid development of the campus.
"We are only halfway through the battle to build the campus in Malaysia. There is still a long way to go, but things are improving all the time," he said.