Students set to flock to an academic home from home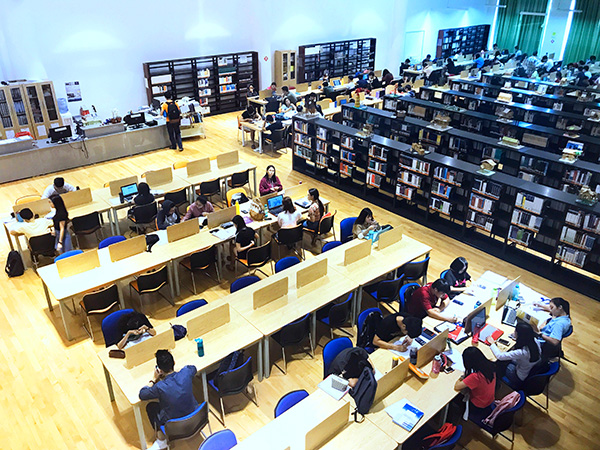 Students study in the library. PROVIDED TO CHINA DAILY
Range of options
Malaysia has a population of about 30million, equivalent to that of a large Chinese city, such as the southwestern metropolis of Chongqing,but it is home to more than 100 higher education institutions, both public and private.
In addition, some well-known universities in developed countries, such as the University of Nottingham in the United Kingdom, have also established campuses in the country.
That has resulted in fierce competition to recruit students, according to Zhang Ying, assistant president of XMUM.
To remain competitive, the campus offers a range of scholarships, and great efforts have been made in the design of courses and the curriculum to provide students with a wide range of study programs.
Some of the most popular disciplines at Xiamen University, such as chemical engineering, marine biotechnology and business studies, have been brought to the campus in Malaysia.
Meanwhile, some majors that are gaining popularity in Malaysia's private universities, such as new-energy science and engineering, have been set up in recognition of the country's natural resources, employment prospects and the need to train people in certain skills.
Ohg, the student from Kuala Lumpur, said the opportunity to study the new-energy science and engineering course was the reason he decided to attend the new school, although the fact that it is located near his hometown was also a factor.
Before enrolling at XMUM, Ohg was offered a full scholarship by a prestigious university on the Chinese mainland, but he declined because the school didn't offer his chosen major, which he described as"interesting and promising".
Haw Choon Yian, an assistant professor of new-energy science and engineering at XMUM, said the traditional primary sources of energy-coal, natural gas and petroleum-are being depleted at a rapid rate, so the program promotes the discovery of better, new energy options.
It is"the first and only program of its kind to be launched at a Malaysian private or public university", said the 30-year-old lecturer, who teaches several courses, including general physics laboratory experiments and techniques, physics and the corrosion and protection of materials.
"The combination of the job market, the rising demand for energy and the need to solve environmental problems, such as excessive emissions of greenhouse gases, means it is our most attractive course," he said, adding that the program is an "eye-opener" for local students and is playing an important role in the growth of the new campus.