Cycling across China to share the gift of life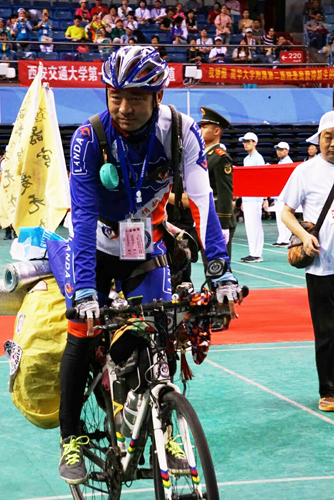 Wang Zhengwei attends the China Transplant Games held at Peking University on June 11. [Photo/China Daily]
Transplant patient has made it his mission to promote organ donation
Most amateur cyclists ride for enjoyment, but Wang Zhengwei also aims to save lives.
In early June, Wang, 45, spent 16 days riding 1,500 kilometers from Northwest China's Gansu province to Beijing before competing with other organ transplant patients at the China Transplant Games.
His sportswear and the flags tied to his bike bore huge logos promoting organ donation, to draw attention to the cause that has saved thousands of lives-including his own.
Diagnosed with liver cancer in 2008, Wang received a transplant after waiting in hospital for three months.
"That was a very difficult time," recalled Wang, who sold his home and fell heavily into debt financing the 500,000-yuan ($73,000) operation.
Six months later, he went back to work, but he has been on medication ever since. Doctors recommended physical exercise to stay healthy, so he tried climbing, jogging and other sports before falling in love with cycling.
"It's not only good for the body, but enables me to visit different places and meet more people," he said.
Starting with short rides on streets or at parks near his home, Wang began challenging himself to ride further and faster.
In the past seven years, he has traveled 40,000 km. His longest trip, which took place in Qinghai province last year, lasted 20 days.
At first, Wang loved sharing his story on his travels, but he soon realized that few people knew about organ transplants and donations.
"Raising public awareness is a meaningful thing to do," he said.
China banned transplants of organs from executed prisoners in January 2015, so voluntary donations have been the only source of organs since then.