Tipping the scale: Beijing leads in obesity rate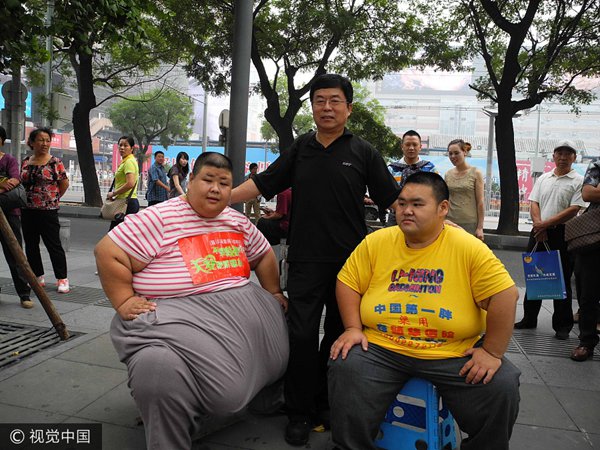 Liang Yong (L), dubbed as "China's No 1 Fatty" and Yang Bo (alias), dubbed as "Beijing's No 1 Fatty" appear together in Xidan in Beijing, Sept 10, 2012. They appealed to the public not to discriminate against obese people, and help overweight friends lose weight. [Photo/VCG]
The obesity rate in northern China is significantly higher than that of southern China, with Beijing topping the scale, according to a recent report issued by the Chinese Center for Disease Control and Prevention.
The research team defined "overweight" adults as those with a body mass index (BMI) between 25 and 30, and "obese" adults as those with a BMI of 30 or more.
The data showed that the obesity rate in Beijing was 25.9 percent, while the average national obesity rate was 11.9 percent. Hebei ranked the second with 22.2 percent, and Xinjiang Uygur autonomous region ranked the third with 21.5 percent.
The average overweight rate in the north was over 35 percent, and the average overweight rate in the south was 27 percent. The overweight rates in Hebei, Inner Mongolia, Shanxi and Heilongjiang stood above 37 percent while the figures in Fujian, Guizhou and Guangdong were below 27 percent.
According to Wang Jingzhong, researcher with the Nutrition and Health Institute of Chinese Center for Disease Control and Prevention, the latitude in northern China is much higher than the southern regions. In the cold weather, human metabolism in the north is slower. Apart from the weather factors, obesity is also closely related to the diet structure of the people. In the north, residents eat more cereals, high fat and high cholesterol foods and often drink wine, which results in more obesity.
A research by Imperial College London found that China's obesity rate has skyrocketed in the last 30 years and the Chinese now have the highest obesity rate in the world.
Obesity is a growing concern in the country. Three decades ago, few people in China were overweight. As the economy improved after the reform and opening-up, changes in food and beverage consumption and dietary patterns contributed to obesity increase.
"Although Chinese are becoming rich, they do not have a healthy lifestyle. Western-style food has gained considerable popularity in China, although the calorie-rich junk food leads to accumulation of fat. At the same time, Chinese adults do not do enough physical exercise," said Li Guangwei, director of Endocrinology and Cardiovascular Disease Center of Chinese Academy of Medical Sciences.
Matthew Crabbe, co-author of "Fat China: How Expanding Waistlines are Changing a Nation" described China's surging rate of obesity as "a ticking bomb" underneath the country's future economic growth and public health care system. In 2003 alone, Chinese overweight and obese adults directly cost the country 21.1 billion yuan ($3.3 billion) due to increase in hypertension, diabetes, coronary heart disease and strokes.
President Xi Jinping called for full protection of the people's health in the national health conference in August 2016, stressing that public health should be given priority in the country's development strategy.
"The all-round moderately prosperous society could not be achieved without people's all-round health," Xi said, urging efforts to promote healthy lifestyles.
Xi said health is a prerequisite for people's all-round development and a precondition for economic and social development. It is also a common aspiration of all people.
The next 15 years will be an important phase of strategic opportunity to promote "healthy China", according to the "healthy China 2030" blueprint released by the central government in October 2016.
The upgrading of consumption structure will contribute to boost health services. The Chinese Nutrition Society is providing nutrition education by creating dietary guidelines to help consumers make more healthy lifestyle choices. These guidelines can be useful in assisting the population in adopting healthy eating habits which can be an important preventative measure against obesity.