Tsinghua provides dorm for student with disability and his mother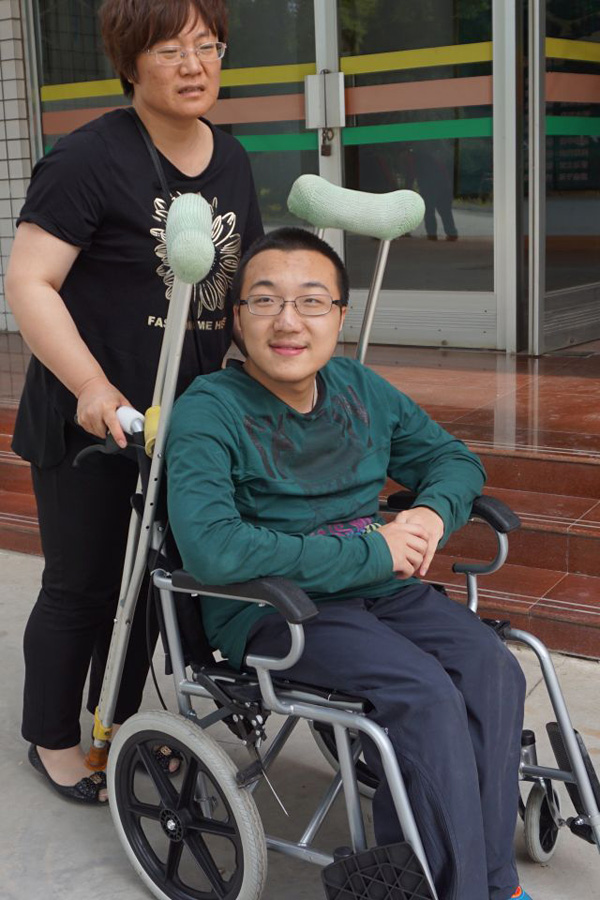 Wei Xiang and his mother. [Photo/Xinhua]
Tsinghua University, one of the world's best universities, is willing to accept the request of a student with disability of preparing a dormitory for him and his mother so that he can complete his college study, according to China Youth Daily.
Wei Xiang, 19, scored 648 out of 750 in this year's college entrance examination in Dingxi, a poverty-stricken region in Northwest China's Gansu province. Having a high possibility to be enrolled in Tsinghua, he published an article on social media on Monday to tell his story and make the request.
In the article, Wei said that he suffered from congenital spina bifida and intraspinal cysts, and although his parents sought best medical care since childhood he is unable to walk. What's worse, his father died from illness in 2005, leaving his mother alone to look after the then-7-year-old Wei.
In June, Wei met a teacher from admission office of Tsinghua who wanted to enroll him. After the initial excitement, Wei and his mother began to worry about how they will live in Beijing.
Since Wei's mother accompanies him wherever he goes due to his health condition, going to Tsinghua meant the mother had to quit her job and therefore lose the only source of income.
When Liu Zheng, the director of Tsinghua's admission office, read the request online, Liu left a message in the post, saying that Tsinghua's faculty has connected with Wei and will provide him all resources possible. "Tsinghua will not let any student drop out due to economic reasons!" he said.
The university's top leaders also expressed their concerns for Wei. Qingxiaohua, the official WeChat account of Tsinghua's admission office, wrote back a letter on Tuesday to welcome Wei.
The letter said: "Each unfortunate people find misfortune in their own way. But fortunately, you choose to be strong and diligent after experiencing torture of disease and bereavement, and live in a way that we respect and admire. "
The report said the university has prepared a free-of-charge dormitory for Wei and his mother.
The interaction between Wei and Tsinghua drew netizens' attention, with many praising both the parties.
A netizen, named "People's country", said, "God helps those who help themselves".
Another netizen, named "Yixiaoduanla", said that Tsinghua's letter not only means the school said yes to Wei, but also shows the school really cares about students.
Wei is not the only student with disability being enrolled in Tsinghua.
Yi Xiaoyuan, who suffers from rheumatoid arthritis and is unable to walk, completed four-year college studies in Tsinghua and won the school's highest level scholarship. He now studies in a graduate school in Tsinghua.
Zhu Xiaopeng, whose left part of body is paralyzed, enrolled in the Department of Chemical Engineering in 2010.