New champions meeting puts Dalian in the spotlight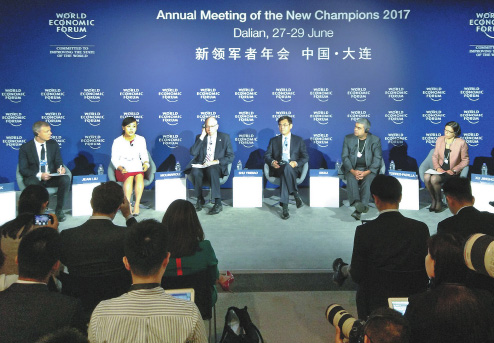 Business leaders and experts share their insights at the Annual Meeting of the New Champions 2017, which is being held in Dalian from June 27 to 29. [Photo by SONG WEI/CHINA DAILY]

Nicknamed the Summer Davos, the event welcomes leaders and entrepreneurs from around the world this month
The Annual Meeting of the New Champions, held every two years in Dalian, has become a showcase to display the recent development of the coastal city in Northeast China's Liaoning province, according to local officials and experts.
The event, also known as the Summer Davos Forum, is organized by the World Economic Forum, a Geneva-based not-for-profit organization best known for its annual meeting in Davos, Switzerland.
WEF began to hold the Annual Meeting of the New Champions in China in Dalian in 2007. Since then, the annual event has been held in Dalian and the northern coastal city of Tianjin alternately.
The event is a summit meeting for the world's top growth companies with the greatest development potential, experts and government officials.
Tan Zuojun, Party chief of Dalian, said the Summer Davos Forum has played a crucial role in displaying the city's image to the international community and promoting Dalian's local growth.
"We hope to use the event as a platform to further promote Dalian's innovation-driven and opening-up strategies," Tan said.
He added that Dalian wants to better integrate with the world, using global resources to facilitate the city's economic transformation and sustainable development.
Since 2007, the coastal city has successfully hosted five sessions of the meeting.
More than 1,500 delegates, including government officials and business leaders-including the young entrepreneurs who are regarded as the "new champions" of their respective industries-as well as scholars and experts have attended the forum's every session in Dalian.
According to Klaus Schwab, founder and executive chairman of the World Economic Forum, before the event's first session was held in Dalian in 2007, more than 70 percent of the foreign participants were not familiar with Dalian.
After the 2007 meeting, about 90 percent of attendees said they had a better understanding of the coastal city, Schwab said.
The Summer Davos Forum is regarded as an important platform for Dalian to understand global economic changes and growth trends.
During past years' sessions, the event highlighted topics of pressing concern, helping Dalian to incorporate the world's advanced experiences for the city's development.