Space administration prepares for second flight of Long March 5 carrier rocket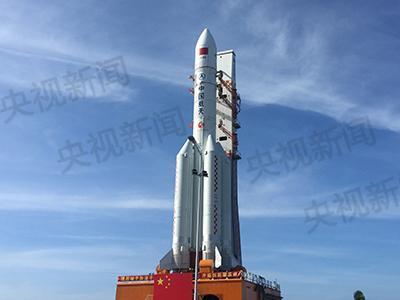 The Long March 5-Y2 rocket was moved to its launch pad at Wenchang Space Launch Center in the island province of Hainan on Monday morning. [Photo/CCTV News]
China will conduct the second flight of its Long March 5 heavy-lift carrier rocket sometime between July 2 and 5, according to the China National Space Administration.
The administration said in a news release that the Long March 5-Y2 rocket, with the Shijian 18 communications satellite atop it, was moved to its launch pad at Wenchang Space Launch Center in the island province of Hainan on Monday morning. The Y2 in its designation means it is the second mass-production rocket in the Long March 5 family.
The news release said engineers will conduct the final tests before pumping fuel into the rocket.
The rocket was transported by the Yuanwang 21 and Yuanwang 22 ships to Wenchang from its production facility in the northern coastal city of Tianjin in April.
As China's first-generation heavy-lift rocket, the Long March 5 has a liftoff weight of 870 metric tons, a maximum payload capacity of 25 tons to the low Earth orbit and 14 tons to geosynchronous transfer orbit.
The rocket has two core stages and four boosters. It uses liquid oxygen/kerosene and liquid oxygen/liquid hydrogen as propellants for its engines, which means the rocket is friendlier to the environment than previous Long March types, according to the its developer, China Academy of Launch Vehicle Technology in Beijing.