'I had never witnessed anything so scary', woman says of landslide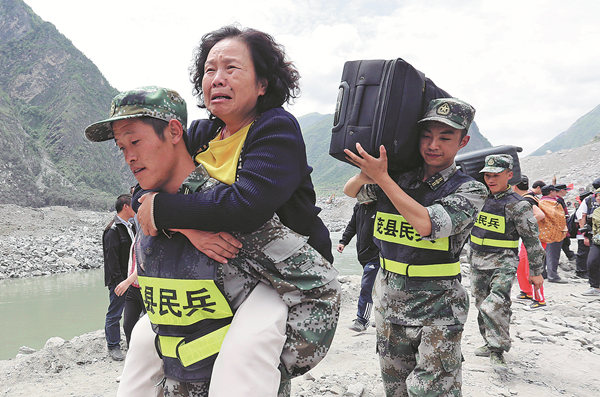 Reserve soldiers on Sunday carry victims and their belongings from Xinmo village on the road to safety. They were stuck on the mountain because of the landslide.
Liu Baolin, a 35-year-old officer of the Sichuan Brigade of Armed Police, said chances for people to survive such a landslide were slim.
People could survive a major earthquake because there was space between fallen building components, but no space was available after they were buried under mud, said Liu, who had participated in the disaster relief of the magnitude-8.0 Wenchuan earthquake in Sichuan in 2008. The quake killed more than 69,000 people and left nearly 18,000 missing.
"The landslide buried so many people because it occurred in the early morning when people were asleep," Liu said, adding that it takes some 20 seconds at most to bury people with rocks and mud. They would soon be suffocated below a dozen meters of rocks and mud, he said.
Xu Qiang, an expert in emergency response to geological hazards of the Ministry of Land and Resources, said the landslide has something to do with the Wen¬chuan earthquake. The town is about 150 km from the quake's epicenter.
The Wenchuan quake damaged the deep rock mass and reduced the stability of the mountain, so a landslide is more likely after excessive rainfall. Xu said it would take 20 to 30 years to get rid of the hidden risks of the Wenchuan quake within the local environment.
The site of the landslide is located along the Minjiang River, a major tributary of the Yangtze River in the upper stream, and located in the Songpinggou fault where quakes had been frequent throughout history.
A magnitude-7.5 earthquake took place there, burying the ancient town of Diexi in Maoxian county permanently under a lake and killing some 6,800 people on Aug 25, 1933.