Soccer project looks to net school students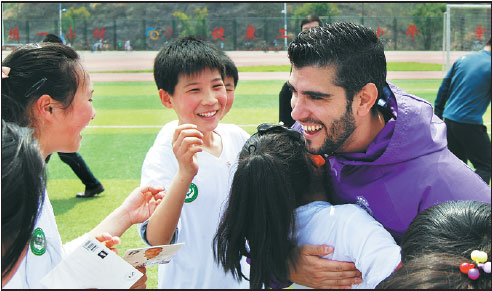 Victor De Arce, of the Real Madrid Foundation, hugs a student after a soccer training session.
About 66,000 people from the population of 680,000 still live below the official poverty line of 3,000 yuan($441) annual per capita net income,which is set and adjusted annually by the State Council Leading Group Office of Poverty Alleviation and Development.
To shed their impoverished status, about half of the parents of school-age children in Jinzhai have left the county to work in urban areas such as Shanghai, and in the provinces of Zhejiang and Guangdong, the county education bureau said.
The exodus has resulted in a lack of necessary parenting for these "left behind" children who are at vulnerable ages.
"The absolute focus on academic study in schools and the lack of parenting at home makes left-behind children vulnerable to addiction to negative hobbies (such as video games and overuse of smartphones)," said Lu Shizhen, vice-chair of the China Youth and Children Research Association.
"It's essential that we introduce more sporting activities to channel children's excess energy into something positive, not least for their physical development."
The efforts have started to pay dividends.
After practicing soccer during PE classes and at after school sessions in the fall semester last year, Zhuo, the sixth-grader at the Siyuan school,was drafted into a team that represented the school at a countywide tournament in November.
"My father said he was really proud of me after he heard the news, and encouraged me to continue playing whenever possible," Zhuo said, grinning.
Guarantee of quality
To guarantee quality implementation of training sessions in strict accordance with the curriculum set by the Spanish experts, the Real Madrid Foundation has twice sent its senior "trainer of trainers" on three day visits to Jinzhai to educate local PE teachers and coaches via theoretical and field sessions.
In April, Spaniard Victor De Arce visited Jinzhai to provide intensive lectures and field drills for seven teachers from the school and two undergraduate volunteers from Beijing Sport University to consolidate their understanding of the curriculum and its use.
"They have to remember all the time that this program is not about athleticism, but the development of the kids' personalities," De Arce said.
Traveling 10 months every year to train local staff and organize clinics at the foundation's facilities in many of the world's underprivileged regions, De Arce senses that Chinese children sometimes need extra encouragement.
"Compared with kids in Western countries, they are relatively less confident and less active when socializing with each other. So, we designed more fun and interactive games for the curriculum to intrigue them. It's been helpful," he said.
As an assessment after De Arce's instruction, a 90-minute training session conducted by four local trainers, each overseeing 15 students, proved the game-centered course design works well.
Rules improvised by local trainers, such as only girls can shoot for goal and players may only make a limited number of passes before shooting, had every student running, shouting and laughing.
To provide timely feedback and suggest necessary adjustments, the local education authorities have appointed a local coordinator to supervise implementation, and, if required, film sessions and send the footage back to Spain.
Inspired by the Real Madrid model and the country's call to promote soccer at the grassroots, the Jinzhai government has devised an aggressive plan to introduce a soccer education curriculum in all 96 primary and secondary schools in the county, involving 60,000 students.
A three-tier interschool league channeling primary teams to high schools will be held annually at five national soccer-specialty schools, according to the county education bureau.
Since 2015, funded by designated financial allocations from higher-level government, 39 new soccer fields, including smaller five-a-side pitches, have been built on campuses and at public venues. Before, there were just three such facilities in the county.
In October, the first countywide training symposium for PE teachers specializing in soccer education was held at the Siyuan school. More than 70 teachers attended the event.
Sun, the principal, said the county government has approved a special 500,000 yuan fund that will allow the school to continue implementing the curriculum and the teachers' training program.
YiXie, deputy director of the Jinzhai county education bureau, said:"It's nowor never to highlight the role of physical education, especially soccer, in young people's overall education."