New UN appointment welcomed
China has welcomed the appointment of Vice-Foreign Minister Liu Zhenmin as the next UN Undersecretary-General for Economic and Social Affairs.
The appointment was made on Thursday in New York by United Nations Secretary-General Antonio Guterres, according to a statement issued by the secretary-general's office.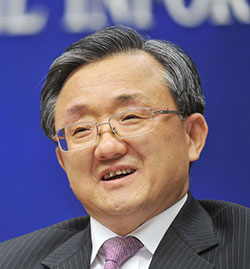 Liu Zhenmin. [Photo/China Daily]
The statement said Liu "brings to the position more than 30 years of experience in the diplomatic service, with a strong focus on the promotion of bilateral, regional and global issues".
In response, Foreign Ministry spokeswoman Hua Chunying said on Friday that the appointment will hopefully bring a push for new achievements by the UN in the area of economic and social development.
Liu is expected to play a positive role in promoting the implementation of the 2030 Agenda for Sustainable Development, Hua added.
Born in 1955 and having earned a Master of Laws, Liu started his diplomat career in 1982, and is a veteran in affairs regarding Asia, treaties, boundaries and oceans.
Hua commented that Liu "has profound experience and outstanding capabilities".
He used to serve as director-general of the Foreign Ministry's Department of Treaty and Law.
From 2006 to 2009, he served as deputy permanent representative and then ambassador of the Permanent Mission of China to the UN, according to the ministry's website.
Before Liu, veteran Chinese diplomats Sha Zukang and Wu Hongbo have assumed the Undersecretary-General post in recent years.
Liu succeeds Wu Hongbo, to whom Guterres expressed his appreciation on Thursday for his commitment and dedicated service, the statement from Guterres' office said.
The diplomats have made great contribution to international cooperation in promoting economic and social development, they have been spoke highly of by many people, and China will continue its support to the UN missions, Hua said.