For top player Ke, it's a Go no-go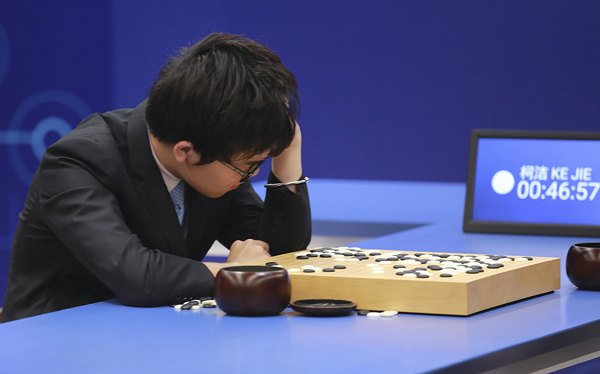 Ke Jie reflects on his play after losing the second game of his match with AlphaGo in Wuzhen, Zhejiang province, on Thursday. [Photo provided to China Daily]
Despite losing the second game with Google's artificial intelligence program AlphaGo on Thursday, Ke Jie, the 19-year-old No 1 human Go player in the world, earned praise from experts and fans for his "incredible" performance.
Though the defeat means that AI has secured victory in the three-game match, the game itself mirrors the human tenacity and courage in the face of mounting pressure, experts said.
The biggest applause came from the rival AlphaGo, whose evaluation system said Ke played "perfectly" for about the first 50 moves of the game, which was held in Wuzhen, Zhejiang province.
"Even for the first 100 moves it was the closest game we've ever seen anyone play against the upgraded version of AlphaGo," Demis Hassabis, chief executive of Google DeepMind, said at a postgame news conference.
In the second game, Ke played the white stones, with AlphaGo taking the black. Comparing the second match with the first, which he lost by half a point on Tuesday, Ke said the second was far more intense and thrilling.
"At one point, I thought I was very close to victory. My heart beat so fast that I pressed my hand to it, hoping it could slow down a little bit," Ke said.
"But I made bad moves later. It's really regrettable," he added.
Ke, the holder of multiple world titles, said AlphaGo's did not maximize some moves, giving him a chance, but he failed to take advantage of it. "It never occurred to me that playing against a machine can be as exciting as playing against a human," Ke said.
Go, which originated in ancient China, is a game in which two players take turns placing black and white stones on a 19-by-19 grid of squares to try to control the most territory.
The game was previously thought to be beyond the reach of computer algorithms because of its complexity, but AI has made major progress in self-learning.
The match is the latest showdown between the best human Go players and AlphaGo, which defeated South Korean Go master Lee Se-dol 4-1 in March 2016. The final game of the match between Ke and AlphaGo will be on Saturday.
"Ke had a good beginning in the game and evolved his strategy to engage in a series of complex battles across the board, but AlphaGo is too formidable," Chinese Go grandmaster Nie Weiping, said in an interview with the news website The Paper.
Sun Hongliang, 37, a teacher who has been playing Go for two years, said, "No one believed Ke would win, but he still accepted the challenge. That is courage. Considering his loss on Tuesday, Ke has done a good job. The performance was incredible."